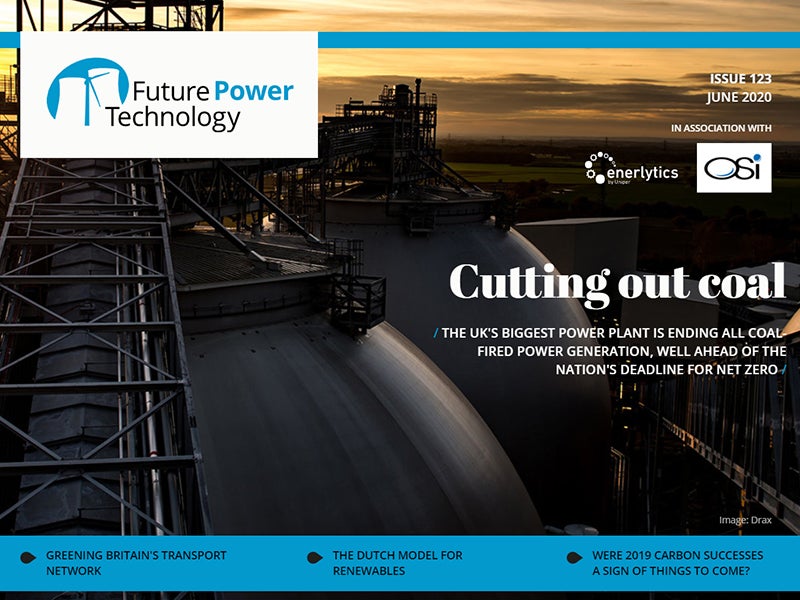 Drax power station in North Yorkshire, the UK's largest power plant, has announced it will end all coal-fired power generation by March 2021, well ahead of the UK's 2025 deadline. We speak to Drax's managers to find out more about the plant's post-coal future.
Also, we see what it takes to green a transport network; examine the UK's lifting of a ban on onshore wind; and take a look at the Dutch model for renewables subsidies. 
Finally, we debate the promise of 2019 carbon successes, map significant green projects in the US, hear from an Australian startup pursuing a new form of fusion, and investigate how close we are to wireless power at true scale.
Whether you are on a desktop, tablet or smartphone, you can read the magazine for free online, and join the conversation on Twitter.
In this issue 
Drax: cutting coal ahead of schedule
The UK's biggest power plant, Drax in North Yorkshire, has announced it will end all coal-fired power generation by March 2021, well ahead of the UK's 2025 deadline for reaching net-zero. Scarlett Evans spoke to Drax's managers to find out more about the plant's post-coal future. 
Electrifying transport: how the UK's net-zero ambitions will affect the grid
The British government has given £37m of funding to electrify the nation's transport network as part of its ambition to achieve net zero emissions by 2050. But is the distribution and supply side also preparing for the increase in demand? Heidi Vella investigates. 
A change in the wind
As the UK Government lifts the long-contested embargo on new onshore wind projects, the sector stands primed to act. Andrew Tunnicliffe finds out why the ban was there in the first place and learns what awaits the sector, local communities, and wider economy now it's lifted.
Renewable subsidies: balancing economy and environment in the Netherlands and beyond
The Dutch Government has announced plans to expand its renewable energy subsidies, ahead of a shift to a new, broader initiative to encourage clean energy projects in the Netherlands. Taking into account the Dutch example, and others from Uzbekistan to South Korea, JP Casey considers the effectiveness of renewable subsidies.
Debate: were 2019 carbon successes a one-off or a sign of things to come?
2019 could turn out to be a watershed moment for emissions reduction, with global coal-fired electricity generation falling by 3% compared to 2018, and carbon dioxide emissions by 2%. However, environmental thinktank Ember concludes that many of these changes were the result of one-off environmental and economic factors. JP Casey and Chris Lo investigate the findings.
The United States of Renewables
Renewable energy production is thriving in the US, amounting to almost 12,000MW in 2019. Ilaria Grasso Macola maps out how the United States of America became the United States of Renewables.
HB11 Energy: the Australian startup pursuing a new form of nuclear fusion
University of New South Wales spin-out HB11 Energy has a potentially revolutionary way of approaching the nuclear fusion race. Scarlett Evans spoke to the company to find out how their approach differs dramatically from the rest of the pack. 
Setting a watch on wireless transmission
In 2018, wireless power transmission made headlines when it was used by mobile phone companies to produce wireless chargers. Now, two years later, Ilaria Grasso Macola asks: what are the new developments in wireless power and, most importantly, are we closer to its use on a bigger scale?
Preview – Future Power Technology July 2020
Years of unfettered production, price wars, and the devastating Covid-19 pandemic have all brought the oil industry to its knees and raised serious questions about its future. We speak to the experts to find out what it will take for governments, funds, and other financial structures to switch from O&G to renewables.
Also, we hear from the Anglo-French TIGER tidal project, learn whether natural gas is still a good investment, and ask what is behind the turn away from net metering in the US. 
Finally, we take a look at Tanzania's first ever wind farm, speak to SABIC about turning its plastics expertise to renewables, examine the numbers behind the US' gross energy exports exceeding their imports for the first time in 2019, and chart the decades-long journey to making Chernobyl safe.