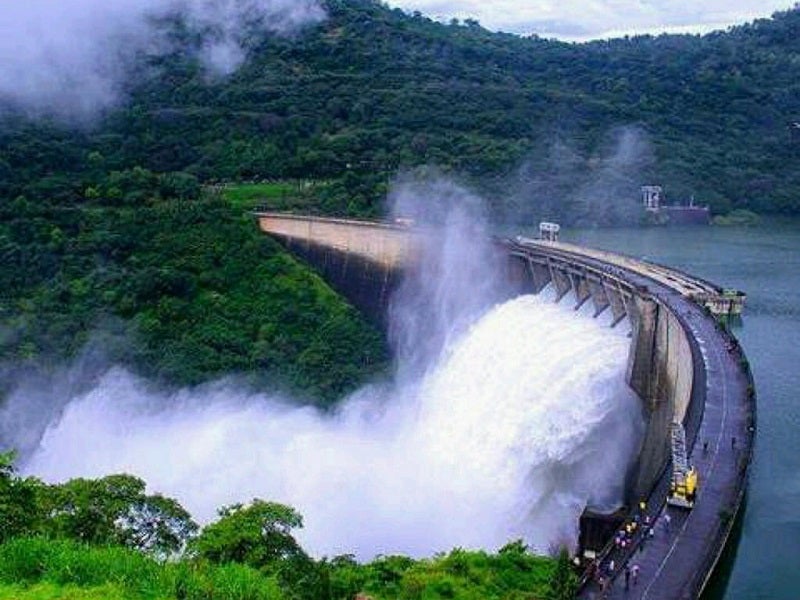 The Shapoorji Pallonji Group, a diversified company which is emerging as an upcoming solar PV developer in the Indian market, has won a contract to develop India's first large-scale floating solar PV plant auctioned through Solar Energy Corporation of India (SECI). This is a 50 MW plant which is part of 150 MW of floating solar power plants planned at Rihand Dam, Sonbhadra district, Uttar Pradesh. The plants were tendered by SECI in March 2018.
The company won the project through the reverse auction mechanism by quoting a tariff of $0.046/kWh.  As per the contract, the company will be selling power to Uttar Pradesh Power Corporation Limited (UPPCL) for a period of 25 years. The plant has been contracted on Build-Own-Operate-Transfer (BOOT) basis with the transfer of ownership to Uttar Pradesh Jal Vidyut Nigam Limited (UPJVNL) after completion of entire Power Purchase Agreement (PPA) period. The price discovered at the reverse auction for floating solar PV plant is 10% higher than the ground-mounted projects in Uttar Pradesh. SECI had fixed a price of $0.047/kWh as the upper ceiling for the tender.
Many solar developers in India are facing problems related to connectivity and transmission of the power produced by them since the projects are generally set up in rural areas where grid infrastructure is not in place. The Rihand floating solar PV projects will not have such issues since it can use the same transmission line as that of the hydropower station.
The entire project of 150 MW has been divided into three packages namely A, B and C with Shapoorji Pallonji bagging the contract under package-B. As per package-B, the company will have to get the required transmission line constructed by Uttar Pradesh Power Transmission Corporation Limited (UPPTCL) on a depository work basis. The connectivity of the line will be at Bina substation.
The floating solar plants were first proposed in 2016 but a tender had not been brought forward due to higher tariffs of solar power at that point in time. With improvements in solar technology, the average tariff dropped, resulting in the announcement of the tender. SECI has come under pressure after a recent directive from the Government to bring 1,000 MW of tenders every month from November 2018 to February 2019. Price ceilings and safeguard duty are making developers go slow on tenders which are making the target for SECI difficult.
Advantages of having floating solar projects in India
Floating solar plants consist of an array of solar panels which are set up on a structure that floats on water body. They have advantage over ground-mounted solar plants owing to their cooling effect and negligible land requirement. Some of the significant advantages are:
Increased output from solar PV system- Various studies have confirmed that there is an increase in electricity generation from floating solar PV plants owing to reduced operating temperature of solar modules. This is on account of the natural cooling effect of water. Also when installed on huge water bodies the settled dust on the panels would be less, resulting in increased generation.
Water savings- Installation of floating solar PV plants would reduce the water loss on account of evaporation. Additionally, cleaning a typical ground-mounted solar PV plant requires huge amount of water. As per the Council On Energy, Environment and Water (CEEW), 7,000-12,000 litres of water per MW is required in the cleaning of regular plants, but in floating solar PV plants the water utilised for cleaning can be reused and so, a large quantity of water can be conserved.
Alternate source of energy at dams- A reservoir-based dam can have floating solar PV plants. The solar plants can be utilised during daytime. And the water that is conserved during daytime can be used at night to generate more power. This will reduce dependence on fossil fuel plants.
However, it is much more expensive than ground-mounted projects. The land-related costs for large-scale solar plants in India average under seven percent of the total project cost. But the cost of the floating platform on which the plants are mounted and the anchor cost to keep the plant fixed is estimated to be 20% of the total plant cost. Also, the transportation costs associated with floating devices are five times the costs of solar panels. Currently, in India, it is unclear whether there are any indigenous manufacturing bases for floating devices. NTPC developed its own floating device for a 100 kW solar PV plant in Kerala.
In India, floating solar is likely to face challenges in scaling up to the level of ground-mounted projects owing to higher costs. But with limited availability of land and the cost associated with the procurement of fertile land in states like Uttar Pradesh, floating solar can be the next thing to achieve the 100 GW of solar PV target by 2022. The 50 MW of floating project for which Shapoorji Pallonji has been selected could change the market dynamics.