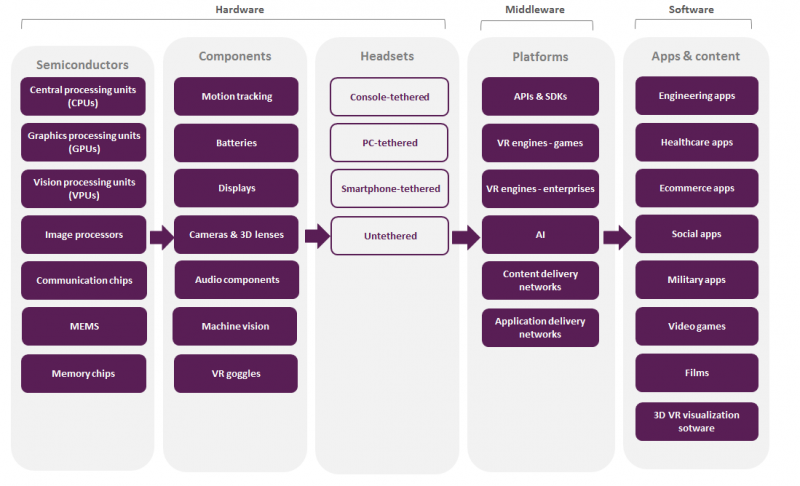 Virtual reality (VR) technology can help the power industry to deliver workforce training and education in an immersive environment. VR headsets position the employee in a computer-simulated environment that imitates real-world conditions. Employees can now be trained effectively and efficiently on how to manage and respond to such situations.
Major utilities and power companies such as Duke Energy, Consolidated Edison, PG&E, National Grid Plc, Electricite de France SA (EDF), PPL Electric Utilities Corporation, General Electric Co (GE), Siemens, and Fortum are deploying VR technology into the industry's workforce.
A recent report 'Thematic Research: Virtual Reality in Power' released by GlobalData, a leading data and analytics company, reveals that VR training could kick off in a big way. It aims to bring new value to the power industry. VR immerses the user in an artificial world, which has the illusion of reality. It uses headsets or gloves fitted with sensors to simulate a user's physical presence in a 3D environment.
While VR vendors are quick to discuss multiple uses for VR, in all likelihood, VR will remain a niche technology. Its uses will be limited to employee training. VR can help utilities improve knowledge management, especially given the problems with an ageing workforce and the loss of knowledge as employees retire. The technology helps power utilities and companies to improve employee training, which will lead to safer and more efficient maintenance processes.
VR-based health and safety (H&S) training has the benefit of teaching the workforce without exposing them to potentially hazardous conditions. Technicians can be educated to tackle situations they may be faced with in real-life at their workplace. Situations or real-life environment can be simulated by making use of advanced computer software. VR headsets position the person in a computer-simulated reality that imitates the real-world environment.
VR training systems, provided via, for example, the Oculus Rift and HTC Vive headsets, could help simulate real-world environment and dangerous conditions in the plant, like chemical spills, working at heights, along with confined spaces. In this case, if a H&S issue occurs in real life, employees will have encountered a similar incident in the virtual world, and will be better equipped to respond to such situations.
The Electric Power Research Institute (EPRI) is working with major utilities such as Duke Energy, Consolidated Edison, EDF, Korea Electric Power Corporation and others on how VR can fit into the industry's workforce. Many VR devices manufacturing firms are also making huge investments in VR such as Google, Facebook, Sony, HTC, among others with VR headsets, and other devices being largely developed and experimented for numerous applications.
While Augmented Reality (AR) use cases extend into operations, VR use cases are almost exclusively focused on training, planning and customer education. Considering the VR case studies mentioned below, we see that most of the power utilities and companies are utilising VR altogether for training purposes, with a strong focus on nuclear power plants (NPPs). They are helping to restrict the nuclear workers' exposure to various parts of a NPP. Through VR simulator solutions, employers can decrease their workers' exposure to dangerous conditions, and enhance workplace H&S.
Operator training along with design validations at NPPs can now be performed in an effective manner with the help of VR.  In August 2019, the Finnish utility Fortum built the world's first high-definition VR simulator at its Loviisa NPP in Uusimaa, Finland, for training its control room operators. Fortum's eSite is committed to provide industrial-grade VR solutions for safety-critical environments and process industries. Fortum's eSite is utilising the Finnish Technology company Varjo's VR-1 headset for offering immersive training to NPP employees for scenarios which span from basic daily practices – like monitoring displays, to more complicated operations.
Duke Energy's metrology team, located at Oconee, utilises laser equipment for imaging of NPP systems as well as components. In 2017, as part of a project carried out during a refueling outage, the metrology team secured around 363 individual scan positions amidst the outage to develop ample images to make it totally virtual. The project completion involved 5 weeks of data acquisition, processing and rendering steps. With the help of this VR tool, Duke Energy's nuclear workers could collect the needed measurements without visiting the nuclear reactor building during a NPP outage scenario.
EDF's research and development (R&D) team has developed a digital innovation "VVProPrepa – a VR tool" that make use of video gaming technology to offer thorough tours of nuclear reactor buildings utilising maps, panoramic photos, laser scans along with 3D models.
Consolidated Edison is utilising VR training to make its workforce ready for real dangers, enhancing their safety and proficiency. VR training enables employees to showcase their understanding of procedures and safety measures on natural gas and electric installations.
PG&E, a major Californian utility, is working with a California-based IoT startup (now acquired by Nokia), Space-Time Insight to utilise plant data along with VR technology to offer a faster and safer way for utility personnel to examine equipment, reducing the probability of technicians getting injured or harmed.
Siemens' COMOS Walkinside – a 3D VR visualisation software solution – offers a virtual environment for immersive training sessions for power plant operators. This solution enables one to walk through the complete power plant at the virtual level via utilisation of devices like VR glasses for conducting highly efficient immersive operator trainings.
The number of assets which are maintained or monitored is on the rise, and power utilities are increasingly witnessing inclusion of renewable energy sources, electric vehicles (EVs) and distribution control equipment. However, much of this new equipment is fitted with sensors, and sensors are also retrofitted into older assets. This data can be used in VR models of critical assets. For example, when an asset fails, the performance data of this asset can be fed into a VR model to help maintenance engineers understand what led to the asset failure, and improve future maintenance procedures.