Election Results Are In: Field System Machining Wins Again. Keeping Americans Working on American Machines Since 1978

Deep hole boring, custom boring machines: Deep hole boring, deep hole drilling, deep hole on site machining, deep hole portable drilling and deep hole portable boring are Field System Machining specialties. Do you have the need for portable machining deep holes? Shop machining deep holes? We can do it. We never met a deep hole boring project we didn't like.
Field System Machining sets the possibilities curve for deep hole boring and deep hole drilling, including portable on site deep hole boring and shop machining of deep hole bores.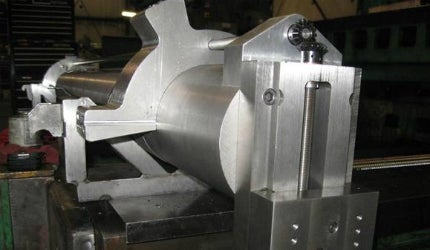 In the photograph above you can see the Field System Machining custom manufactured tool holder and behind the tool holder you can see the front set of Field System Machining designed and manufactured "pop out" thrust pads, which are actuated by a hydraulic pump once the bar is fed into the bore. The phenolic pads force outward, steadying and centering the bar in the bore. This allows the boring bar to machine with accuracy, even as the bar plunges seven feet past the lathe support rest.
Line boring and sleeving machine back to OEM specifications?
Portable Line Boring, also called onsite line boring, is the process of machining two or more in line bores to restore concentricity and roundness to the bores. Most line boring jobs involve restoring bores in which bearings or bearing sleeves are fitted. In this particular in situ line boring job, Field System Machining manufactured custom fixtures allowing the rapid setup of the portable boring bar to the machine.
Field System Machining is capable of line boring any length and any diameter. Field System Machining has manufactured its own line boring fixtures and line boring bars for over thirty years. Field System Machining is a worldwide leader in custom, one-off field machining projects requiring custom boring bars and fixtures. Whether your bores are thirty-seven feet or 37in in diameter, we can bore those bores, until bored right.
Vessel sealing flange faces: portable machining sealing faces
Field System Machining portable machining solutions include machining vessel sealing flange faces to restore flatness. Sealing face leaks result in lost energy, lost product, and lost productivity.
While field machining is not inexpensive, lost manpower productivity and product productivity is expensive and over time, these losses will consume and exceed the cost of fixing the sealing face.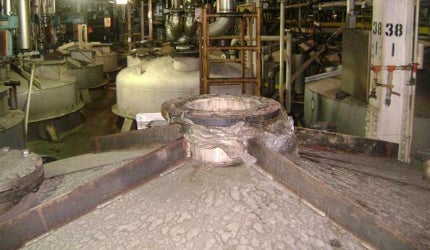 In this photograph we see one of the two vessels requiring machining to the flange sealing face. This critical surface requires a flat surface to properly mate up to the overhead product connection. These surfaces, through heat and pressure, lose flatness over time. On-site machining restores these surfaces to day-one, factory smooth finishes.