Russwurm Ventilatoren GmbH is a German developer and manufacturer of special constructions of portable and large dimensioned industrial fans. We have a long history of delivering customised high-performance fans of excellent quality across all industries worldwide.
Made in Germany and globally sought after, ruwu® fans is a brand that is increasingly well-known for quality products.
High-performance customised fans
Robust, high-performance, customised fans meet the highest technical standards across numerous industries.
If long durability and low maintenance are required, even in extreme environments, Russwurm's technology does the job. For demanding operations with specific requirements, the company can provided customised solutions.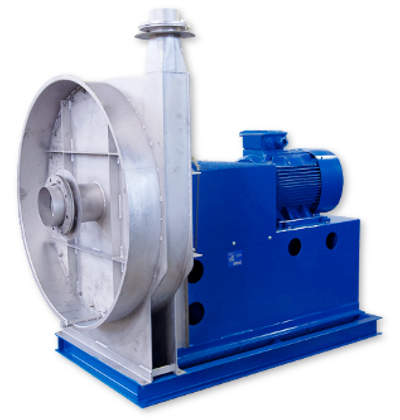 Our fans can be constructed to suit customer-specific requirements. For example, the VE1 / RU 200 K one-way suction gas-proofed high-pressure blower can be customised for use in a PP-plant.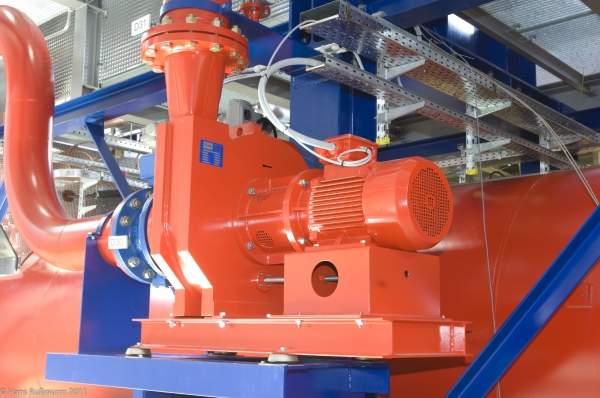 We offer also pressure-resistant, gas-tight fans for more than 28bar.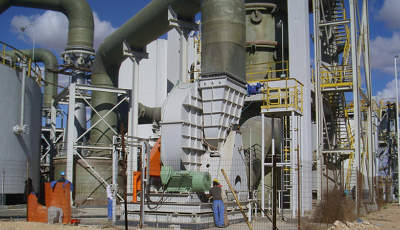 Our high-pressure fans, with transmission and rubberized suction boxes, can ventilate fumes in nuclear and solar thermical power plants.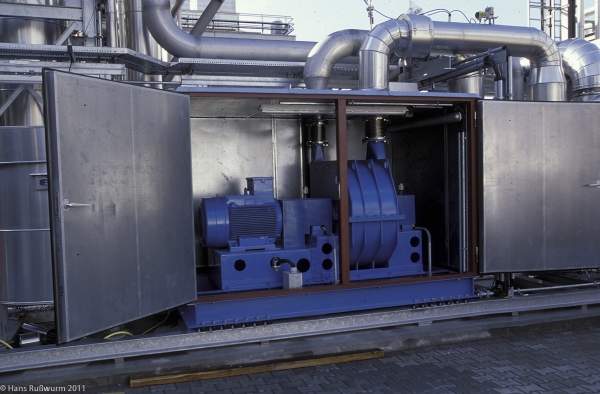 Our efficient design and manufacture process ensures that products, such as a multi-stage stainless-steel blower, are installed on schedule.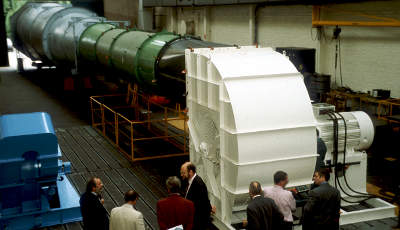 The HNN/ZE 1120K double-suction fan, with 355kW motor power, is specifically designed for use in a nuclear power plant.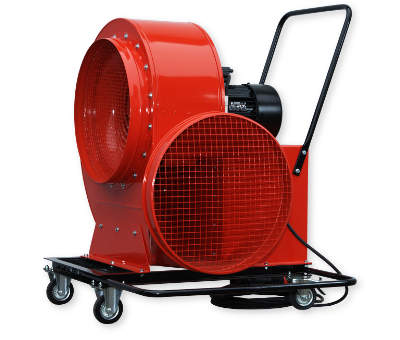 ruwu's MWM 500 D ex fan is lightweight and maintenance-free. It also comes with ATEX 94/9/EC explosion protection.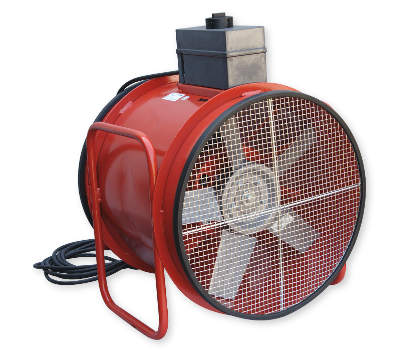 Axial fans with hose connections, such as the VL 500 D ex, have a volume flow 7,000m³/h, 2.5kW and three-phase motor explosion protection.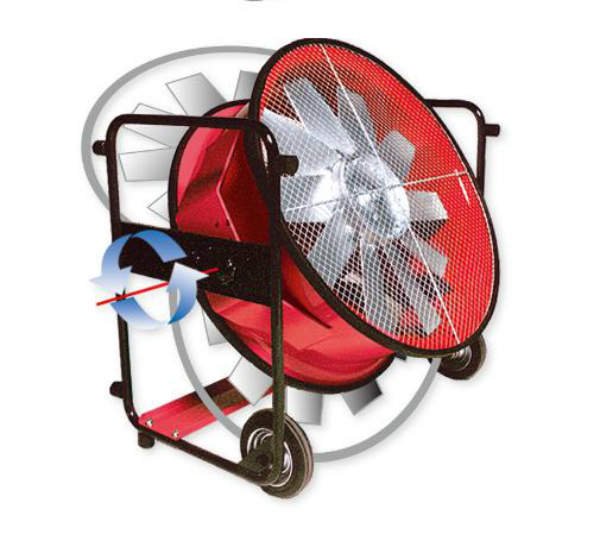 ruwu® mobile fans such as the powerful positive pressure fan VM 600 D ex, represent a speciality of our wide product range. Proven in the most extreme fire and rescue conditions.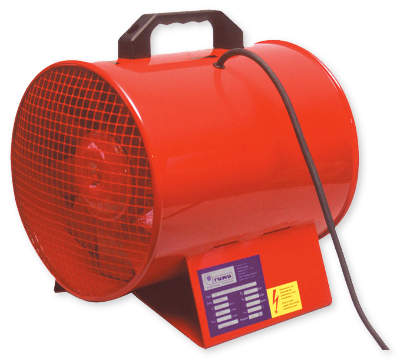 Our compact fans are versatile and can be customised to suit customer needs.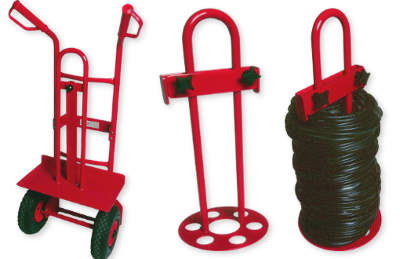 Accessories include, chassis frames for all fan types, carrying devices for suction hoses, suction hoses, pressure hoses, and reduction nozzles.
The experienced ruwu® engineering team has even developed a crosswind construction for a test track of a German auto mobile manufacturer. This was a high-pressure fan with reduction gear and rubberised suction box for a phosphorous plant in Algeria.
Global provider of radial and axial industrial fans
We specialise in radial and centrifugal fans, which cover ranges from 100m³/h up to 800,000m³/h volume flow in low, middle and high-pressure regions.
Wear-resistant centrifugal fans
Our centrifugal fans range covers extremely wear-resistant types with plated impeller blades to convey dust-laden media over compression-proved fans, to multi-stage fans, available with all kinds of casing positions and drive systems.
Other examples are:
Hot-gas-fans for temperatures up to 900°C, with or without casing
Double inlet fans
Shock-resistant fans
Stainless steel fans
Single- or two-sided suction
Circulating fans without housing
Explosion or spark-proof fans
Fans without casing
Fans made of special metals
Fans with special linings, wear and corrosion-resistant
If you require a high-performance fan for an industrial application of the highest demands that a conventional model cannot meet, we can provide a solution to match your individual requirements.
High-efficiency axial flow fans
We produce axial flow fans up to the nominal 2240 size with or without guide vane or diffusers (volume flow 2,000m³/h – 700,000m³/h).
A number of special axial models of series VL and NL have been in-use for a long time. For example, a hot-dip galvanised axial fan with belt drive in special position for a large zinc-coating shop, or robust industrial models with welded steel impellers, special constructions for aggressive transport media and flue gases.
However, the company also offers axial fans with inlet vane control of 1.4571 and special impeller with profiled blades.
Multipurpose mobile fans
Mobile fans are not only light, powerful, maintenance-free and easy-to-handle, but are also available in different types, so can be adjusted exactly to the customer-specific requirements. An increasing number of companies rely on these robust and reliable high-performance fans, which are all made in Germany.
Newly developed models are also applied in crucial situations, e.g. if smoke that is hazardous to health, explosive gases or toxic fumes must be disposed of securely, or fresh air must be supplied immediately if there is little room on the site or in the vehicle. However, they can also be used for additional ventilation of machines or rooms.
Customised fans for industrial environments
We not only supply standard devices, but also develop and manufacture customised special models. From the reasonably priced ultra-compact MWM 150 E beginner-level model, to the ex-protected VM 600 Dex-pressure aerator with spray adapter.
Radial design with hose connection
The series MWM is ideal if higher pressure is required, e.g. during the connection of several hoses.
Axial design with hose connection
If compact sizes are required, the axial fans of the VL and VM series are the right choice.
Pressure aerators with large reserves for fire brigades
Our programme includes two sizes of fans for pressure aeration (PPV). These powerful devices offer high-capacity and aeration and ventilation efficiency from their maintenance-free electro engine.
They run quietly with full ex-protection for zone 1, 2, 21 and 22. Due to their compact size, which requires little space, they are ideal for all vehicles with a lack of space or movement restrictions.
Excess pressure fans are applicable for airports, tank protection, and technical aid organisations.
Certified ruwu® quality globally
Meeting standards in DIN EN ISO 3834-2:2006, DIN EN ISO 9001:2008, and ATEX 94/9 EG, all fans have GOST-R-certification for Russia.
All these certificates issued by external testing authorities indicate strict compliance with product regulations and component specifications, which do not fulfil the specific function, but legitimately symbolise the performed fundamental health and safety requirements of our quality products. It is not surprising that our products are at the forefront in their field of use.
We also provide all accessories to optimise the use fans. In addition, Russwurm Ventilatoren offers a customer-oriented service with comprehensive post-sales consultation worldwide.