Aggreko provides rental power, temperature control and compressed air systems to companies around the world, including diesel generators, industrial generators, commercial generators, large power transformers, load banks, fuel tanks, electrical distribution equipment, power cables and a host of other power accessories. We also specialise in providing rental generators and air-conditioning hire services.
Air-conditioning hire
Aggreko is an industry leader in air conditioning hire. Our portable air-conditioning equipment can be found anywhere from events to construction sites. Aggreko's HVAC services include state-of-the-art hire equipment. Our industrial air conditioners have cooling capacities up to 60t(60Hz) [180kW (50Hz)], and are capable of more than 12,000cfm of 45°F air [5,664l/s of 7.2°C]. If you are in need of an air conditioning hire that will not infringe upon your event, then our HushPac air conditioners are available.
Rental power generators – temporary power projects
For more than 50 years, Aggreko has helped customers increase profits by providing efficient, effective and cost-saving rental power generators and power generation equipment that meet the expanding needs of the shipping, utility, industrial, natural resource and events industries.
Aggreko owns the largest containerised power generation fleet in the world and supplies rental generators as small as 30kW for a temporary plant site maintenance project, and turnkey power plants as large as 200MW for long-term base-load applications.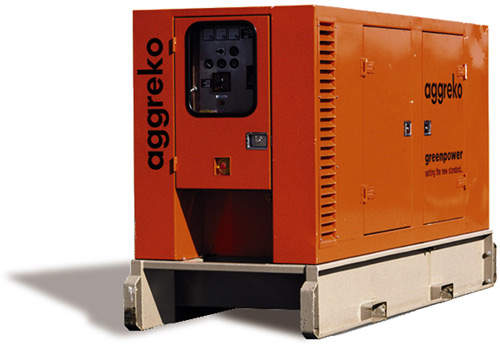 GreenPower canopy generators are custom-built with self-contained generator, fuel supply and controls.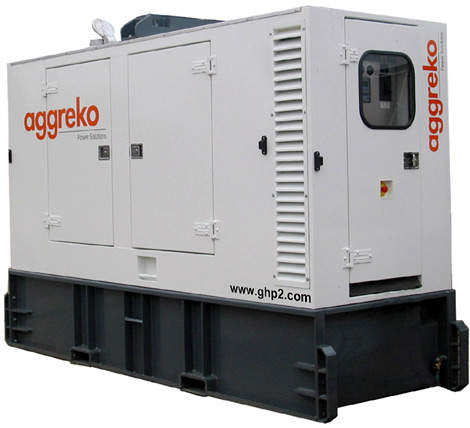 GreenPower 2 canopy generator (GHP2) builds on the orginal GreenPower canopy generator design.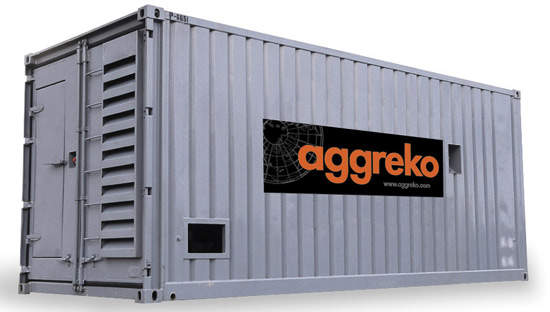 GreenPower container generators are heavy-duty systems designed to handle loads ranging from large events to base load power generation.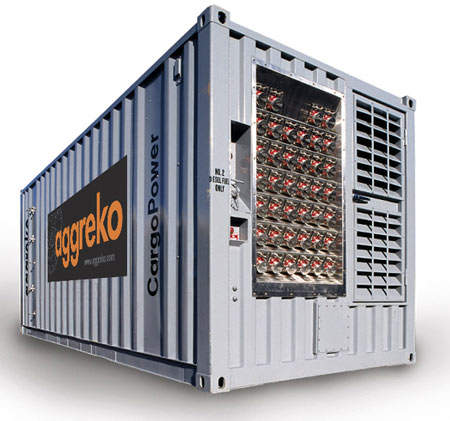 CargoPower generators are designed specifically for the needs of the shipping industry, either onboard or at the dock.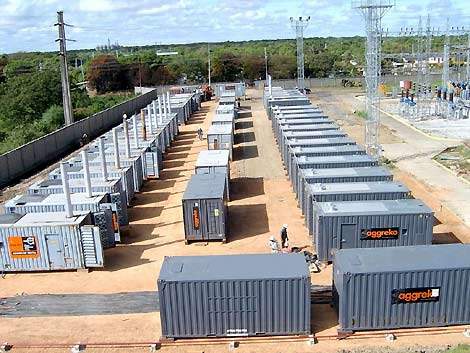 Emergency baseload power station, Venezuela: Aggreko supplied a 30MW / 13.8kV baseload power station.
These modularised rental generators are installed with a full complement of load banks, fuel storage, transformers and switchgear.
Diesel generators, gensets and power modules
Aggreko's diesel generators range from skid-mounted GreenPower gensets to containerised power modules that have become the industry standard.
Aggreko's specialised, low-maintenance gensets for low-noise applications like movie sets (HushPower and GHP2) and onboard or dockside needs of the shipping industry (CargoPower), have won broad acceptance in the temporary power industry. Aggreko has a full range of industrial generator designs and capacities, including:
CargoPower generator — 300kVA — 400kVA (50H) / 300kW — 400kW (60Hz)
GreenPower canopy generator — 30kVA — 300kVA (50Hz) / 30kW — 300kW (60Hz)
GreenPower container generator — 500kVA — 2,000kVA (50Hz) / 500kW — 2,000kW (60Hz)
GreenPower 2 canopy generator (GHP2) — 30kVA — 300kVA (50Hz) / 30kW — 300kW (60Hz)
SuperHush canopy generator — 100kVA — 300kVA (50Hz) / 100kW — 300kW (60Hz)
SuperHush container generator — 300kVA — 1,250kVA (50Hz) / 300kW — 1,250kW (60Hz)
SuperHush towable Movie generator — 100kVA — 300kVA (50Hz) / 100kW — 300kW (60Hz)
TwinPack uninteruptable generator — 200kVA — 800kVA (50Hz) / 200kW — 800kW (60Hz)
Transformers, load banks and fuel tanks
Aggreko provides high and low voltage, utility-grade transformers in a variety of packages available in two basic capacity ratings. Aggreko also deploys a complete line of resistive and reactive load banks for the most superior and reliable means of testing power systems.
Industrial diesel generator customers requiring safe, reliable systems will find that Aggreko's EnviroTanks are the most efficient and environmentally safe tanks in the industry.
Electrical distribution equipment
Aggreko not only strives to meet stringent client requirements for dependable, high-performance industrial, commercial and rental generators, we also pay strict attention to our other power delivery systems. Our circuit breakers, switchgear, load panels, panel boards and transformer distribution centres are matched with our generator product lines. Aggreko will also design and install an entire control room for large-capacity installations that allows customers to manage power needs effectively and efficiently.
Emergency generators and backup power – uninterruptible power supply
Drawing on our experience in multiple industries, Aggreko can be an ongoing partner in productivity and performance. We have service teams located strategically around the world, focusing on event services, process services, cooling tower services team and multi-megawatt temporary power projects on a global basis.
Aggreko can also be an instrumental partner in utility outage and emergency planning (contingency planning), disaster recovery, maintenance / facilities management and uninterruptible power supply for co-location facilities.
Temperature control and compressed air equipment
Besides supplying generators, Aggreko's capabilities extend to many of the subsystems common at power plants, including cooling tower systems, air compressors, electric heaters and water or air-cooled chillers for maintenance and work-environment needs.
Rental equipment and service centres worldwide
Aggreko provides the fastest, most flexible response on a 24/7 basis from the best established, most comprehensive rental equipment and service network in the world, comprising more than 194 service centres.