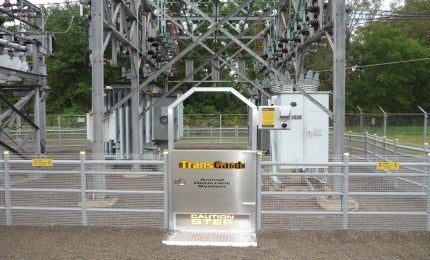 For more than 20 years, TransGard fences have prevented power outages from squirrels, raccoons, snakes, and other climbing animals.
TransGard's patented fencing is the only system trusted to protect more than 2,500 North American substations.
Fences to protect substations from climbing animals
Every year, animals cause hundreds of substation outages that leave thousands without power and cost millions in repairs.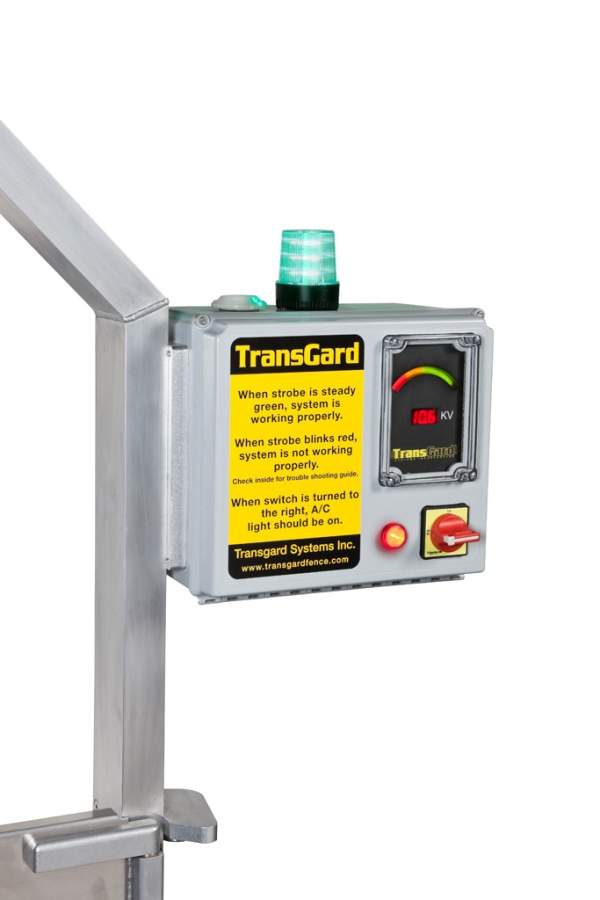 The System Control Centre houses the system's electronic components: digital volt meter, alert strobe system, on/off switch, LED indicator, power supply and SCADA contact module.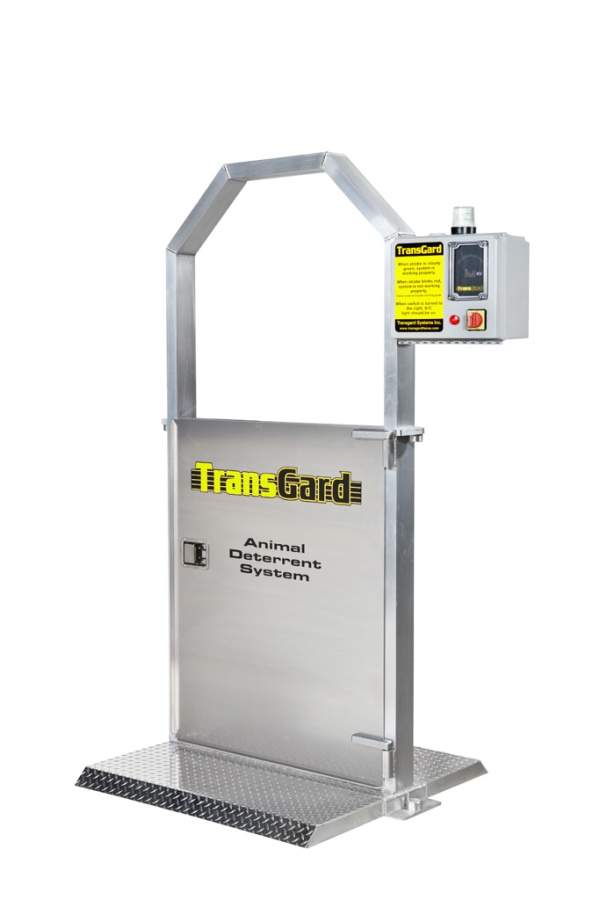 The Full-Door Entryway offers entry to the system enclosure and features a durable aluminum construction. It also houses the system's Control Centre.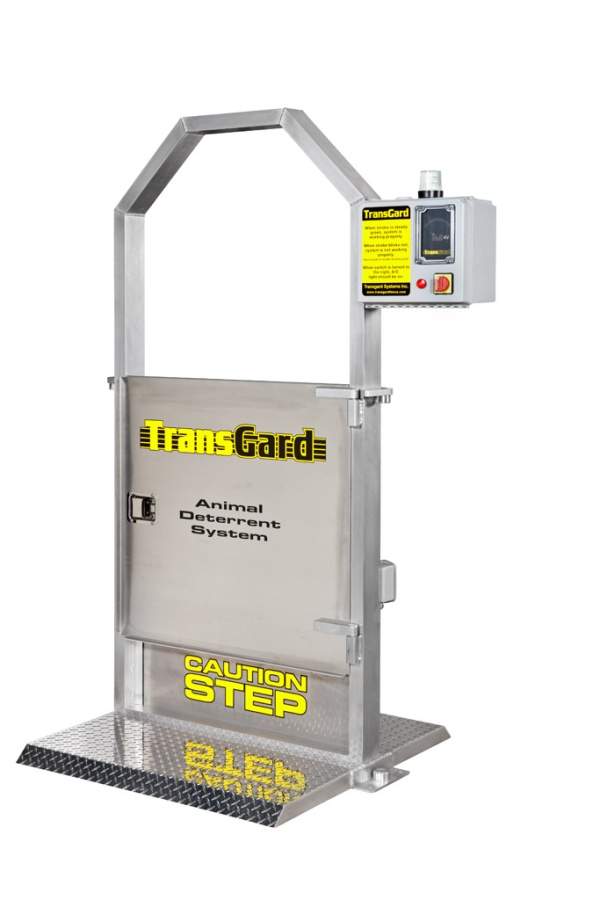 The Step-Plate Entryway offers entry to the enclosure and features a durable aluminum construction. It also houses the Control Box. The removable step plate shown enables the door to open during deep snow conditions.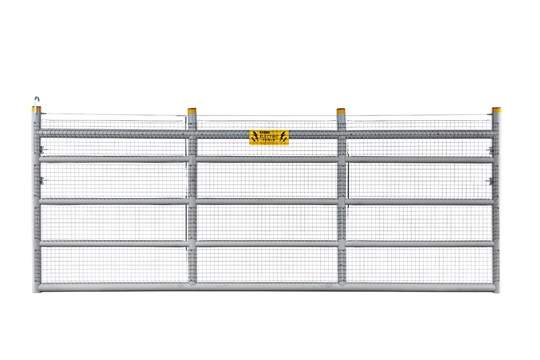 The Full Panel is the largest modular panel, 4' x 10' and forms the fence perimeter. It features a durable PVC, steel and wire-mesh construction and delivers a deterrent shock to climbing animals.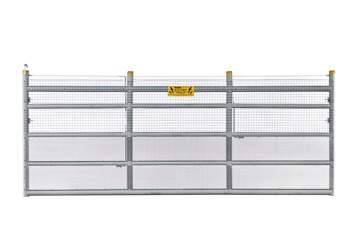 TransGard's optional snake guard prevents incursion from snakes as small as ¼" in diameter.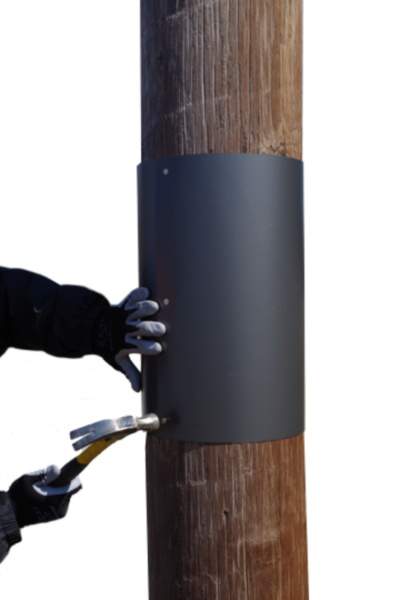 TransGard's Pole Wrap offers a mechanical barrier and prevents animals from climbing utility poles.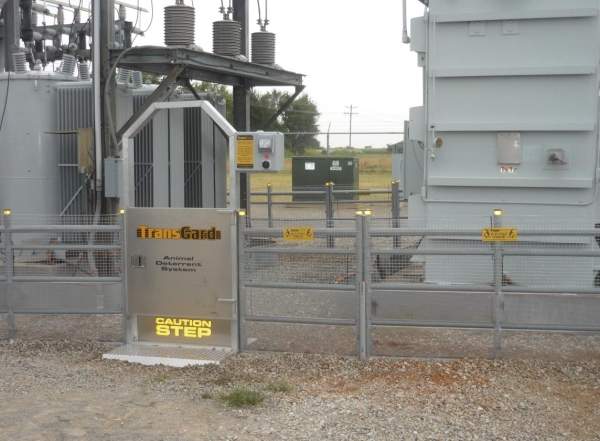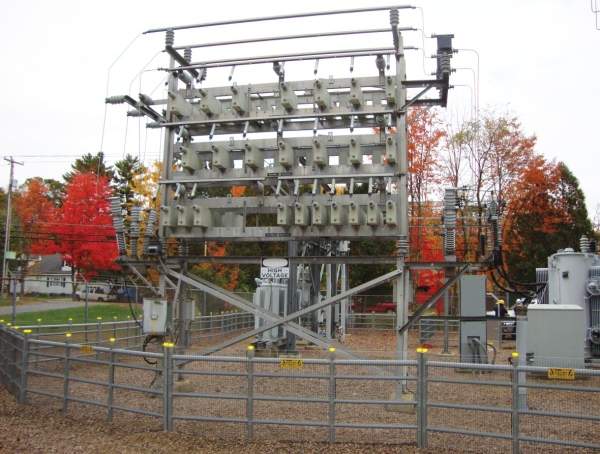 Ameren, St. Louis, MO: "In the very top tier of companies in terms of their commitment to quality, continuous improvement and responsiveness to technicians' concerns."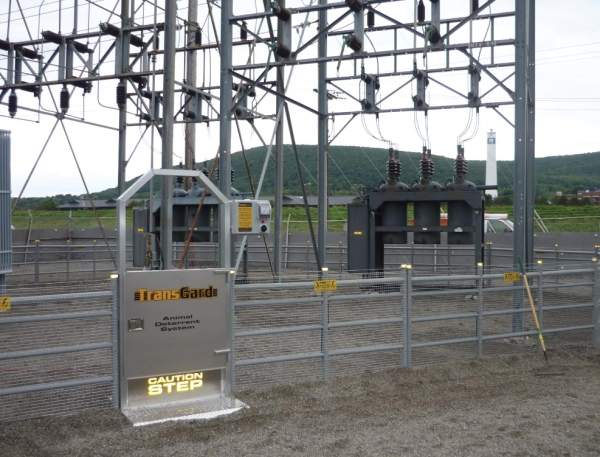 Rochester Gas & Electric, Rochester, NY: "We tried everything from bushing guards to decoys. We just weren't successful and the animals kept getting in – until we installed a TransGard fence."
For more than 20 years, specially engineered TransGard fences have prevented power outages from a variety of climbing animals. TransGard offers substation operators critical advantages:
Proven animal deterrence
Patented design
Lower-cost and more effective alternative to other types of animal mitigation
Fast, simple installation
Durable, maintenance-free construction provides years of performance
With the prevention of a single outage, a substation operator recoups the cost of a TransGard system. America's largest utilities, regional providers and rural electric cooperatives have relied on TransGard for more than two decades.
Mild electric shock fencing for substations
TransGard fences deliver a mild electric shock that deters climbing animals but will not harm them, or humans – a humane approach that, according to Institute of Electrical and Electronics Engineers (IEEE), offers the most effective barrier against animal incursion.
The patented TransGard System offers unique features that provide exceptional results and years of uninterrupted performance:
Freestanding system: Installs on the ground, requiring no postholes, foundation or concrete
Less hassle, lower cost: TransGard requires far less material, expense and time than a perimeter fence
Easy installation: A crew of three can complete a TransGard enclosure in just four hours with basic tools. There is also no power interruption required during installation
Modular panels: Use any fence panel as a hinged gateway for maintenance access and easily reconfigure a fence or expand an existing system
Engineered entryway: Non-electrified entry system offers a smooth finish and tight clearances to prevent animal intruders
Alert strobe: LED module offers clear visual indication of operational system and can be integrated into SCADA for remote monitoring
Durable materials: PVC and steel construction requires no scheduled maintenance and offers a 20-year track record of service in all weather conditions
Galvanized steel bases: Specially designed circular stand bases create a strong, level fencing system
Snake protection: TransGard's optional snake prevention panels deter snakes as small as 1/4" in diameter
Modular-designed fences
Transgard fences feature a unique modular design that offers fast installation, easy access and simple reconfiguration or expansion. The system features three primary components.
Entryways offer access to the substation's equipment. The Control Centre houses the electronic components that operate the system and modular panels form the fence perimeter. The system's components are connected to the power source and each other via 12.5 gauge galvanized steel jumper wires.
Electrical fences for all weather conditions
TransGard Systems was founded in upstate New York in 1990, in response to multiple animal-caused outages every year at substations operated by Rochester Gas & Electric.
The company's fences were designed, developed and enhanced through collaboration with utilities, and later patented. After years of steady growth, TransGard Systems moved to New Freedom, PA, in 2009 to take advantage of centralised distribution and the area's manufacturing workforce.
TransGard company facts
More than 2,500 installations in North America
Documented elimination of animal outages
Only system that delivers a humane, effective shock to climbing animals
Adopted by dozens of utilities in all regions of North America
Functions in snow, ice, high winds and other conditions
Eliminates the expense of costly perimeter fences
Deters squirrels, raccoons, snakes, ringtails, cats, Cuban tree frogs and other climbing animals
For more details on TransGard Systems, visit www.TransgardFence.com. Read our case studies, learn more about what our customers say, or use our 'Request for Quote' form and we'll get back to you in 24 hours or less.