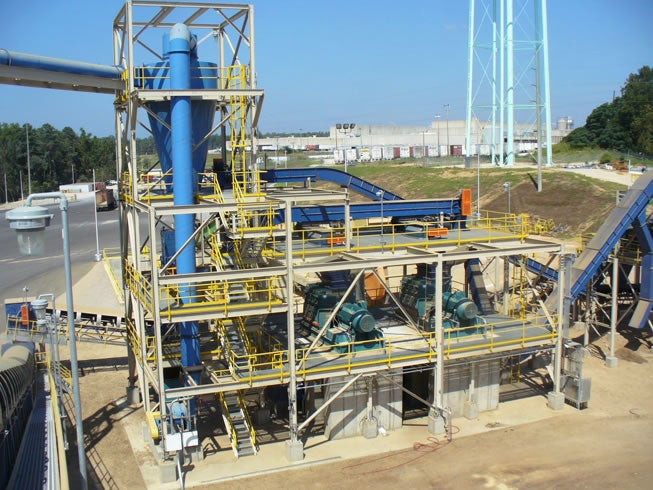 TerraSource Global offers a variety of material handling solutions.
Storage Reclaim Systems by Jeffrey Rader
Jeffrey Rader material handling equipment is used in the multiple stages of biomass energy generation from truck / rail receiving through the metered in-feed into the boiler.
Jeffrey Rader manufactures the equipment you need to stack-out, store, and reclaim your wood chips, bark, hog fuel, biomass, and RDF products. Our storage solutions include open pile, metering bins and circular silos. Reclaim equipment includes traveling linear screws, circular screws, stokers, cone bottom screw reclaimers and top-pile stacker / reclaimers.
Whether it's open storage, closed storage, circular or linear storage, Jeffrey Rader has the solution. Whatever the number of days' storage you require and the type of plant you are feeding, Jeffrey Rader storage and reclaim equipment is designed to keep the facility running with a constant flow of materials.
It doesn't matter what climate or hemisphere you're in, the right Jeffrey Rader equipment can operate 24 hours per day, seven days per week. From linear reclaiming screws in an A-frame building to conical bin reclaimers, Jeffrey Rader has the expertise to provide a solution.
TubeFeeder by Jeffrey Rader brand
The TubeFeeder is a unique and well-proven reclaimer that offers many advantages over traditional under-pile circular screw reclaimers.
The TubeFeeder is a state of the art under-pile reclaimer incorporating patented technology and features that will guarantee efficient, long life and trouble free operation. The TubeFeeder can be supplied in either a circular or linear arrangement.
Advantages and benefits include:
Significant power savings compared to screw reclaimers
Protection from head load
No shear forces occur inside material pile
Reduced wear on parts
Reduced starting torque required
Reduced possible degradation of the chip quality
Consistent reclaim conditions independently of travelling direction and height
High accuracy on low out-feed rates
Uniform and adjustable reclaim rate
True first-in, first-out and mass flow conditions
Homogenisation of material
Precise blending of qualities
TubeFeeder® is a patented product licensed from Main Engineering AB.