Pneumofore is a leading supplier of centralised vacuum and compressed air and gas systems for industrial applications worldwide. The company manufactures machines based on rotary vane technology to guarantee long-lasting operation, high performance and the lowest life cycle costs on the market.
As one of the historical manufacturers and developers of rotary vane technology, Pneumofore pioneering machines and systems are specially designed to deliver reliable, trouble-free operation for decades, even in the harshest working environments.
Combining Swiss engineering and Italian design since 1923, Pneumofore's vacuum and compressor systems feature robust, heavy-duty designs for maximum durability and are built to comply with the oil and gas industry's most exacting safety standards, such as ATEX 2 directive.
Vacuum pumps for vapour recovery processes
Pneumofore's advanced rotary vane vacuum pumps have proven to be highly cost-effective solutions in terms of long-term operational costs and are relied upon worldwide for the operation of industrial vapour recovery units (VRUs).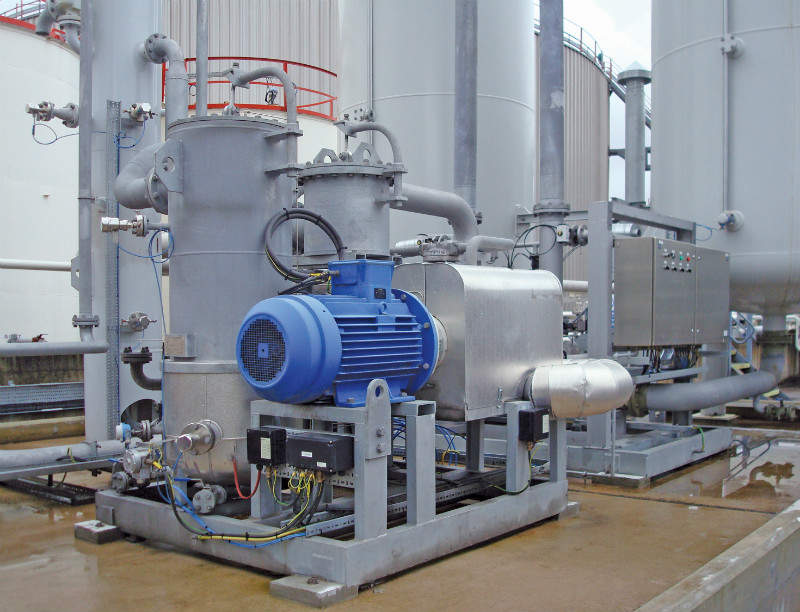 Pneumofore provides rotary vane air end for vapour recovery VRU applications.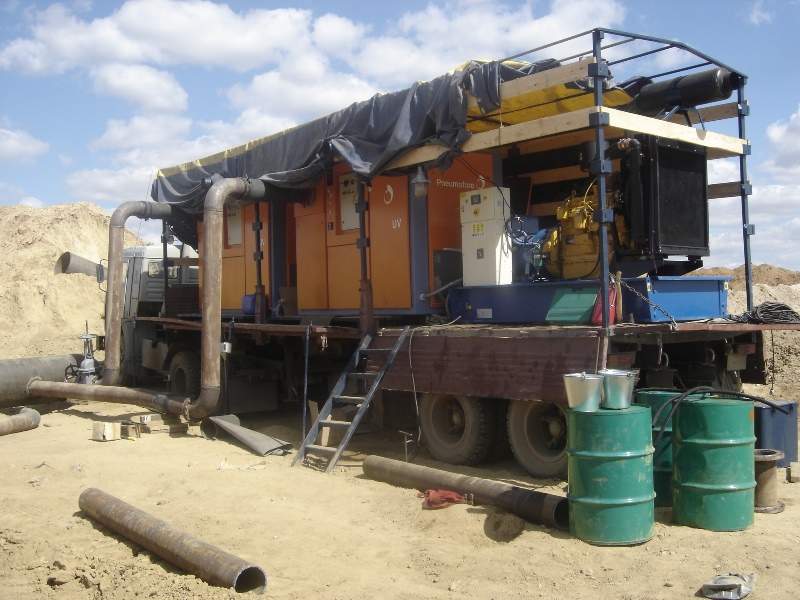 Our vacuum pumps can be supplied in heavy-duty skid-mounted units or specialised container systems for safe and easy transportation to the project site.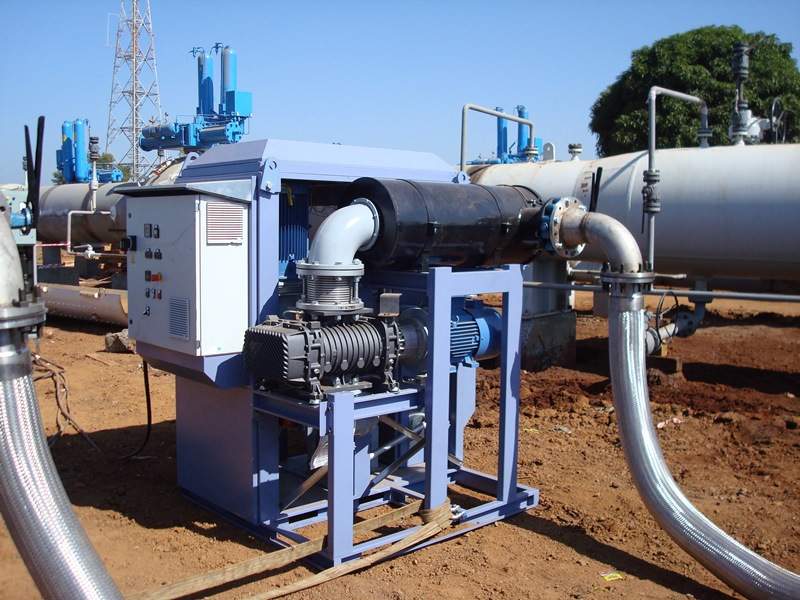 Pneumofore ready-to-use, air-cooled vacuum systems from the UV H Series are able to efficiently evacuate water vapour even in harsh environment, such as deserts or tropical climates.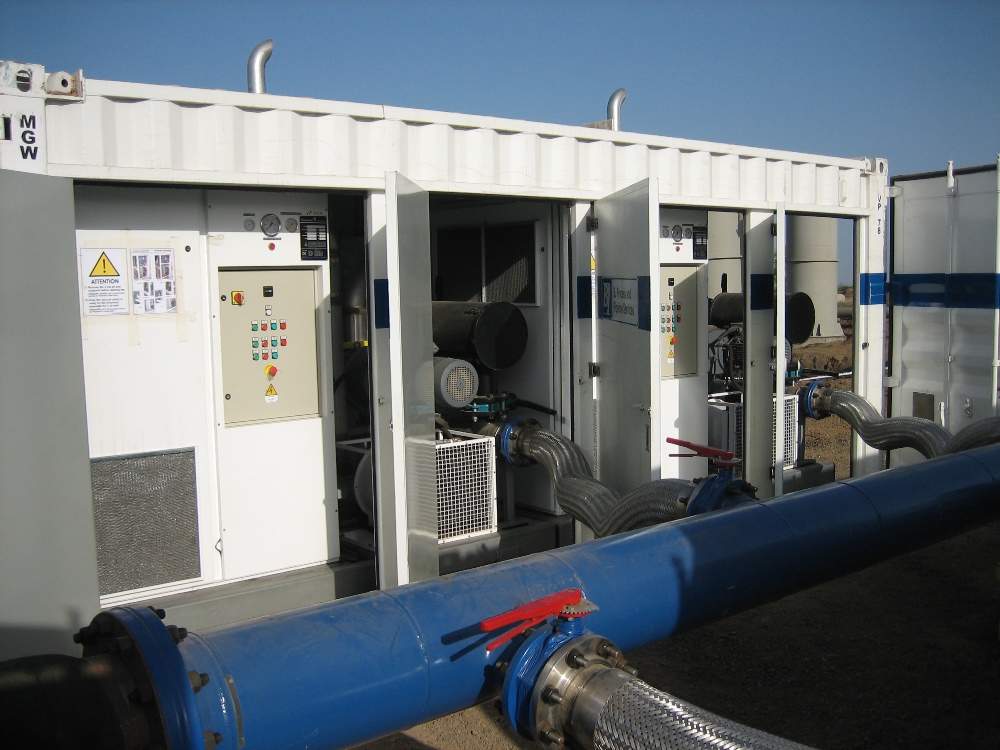 Two Pneumofore UV16 H vacuum pumps with water vapour suction capabilities for gas pipeline drying, operating in their Hot Climate version in East-West India.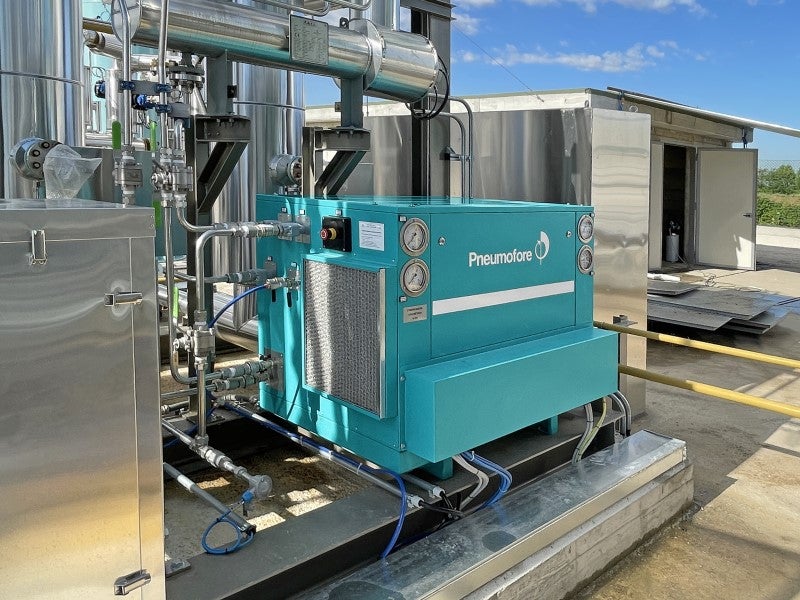 A K2.60 gas booster compressor system operating in the liquefied natural gas (LNG) production and processing cycle.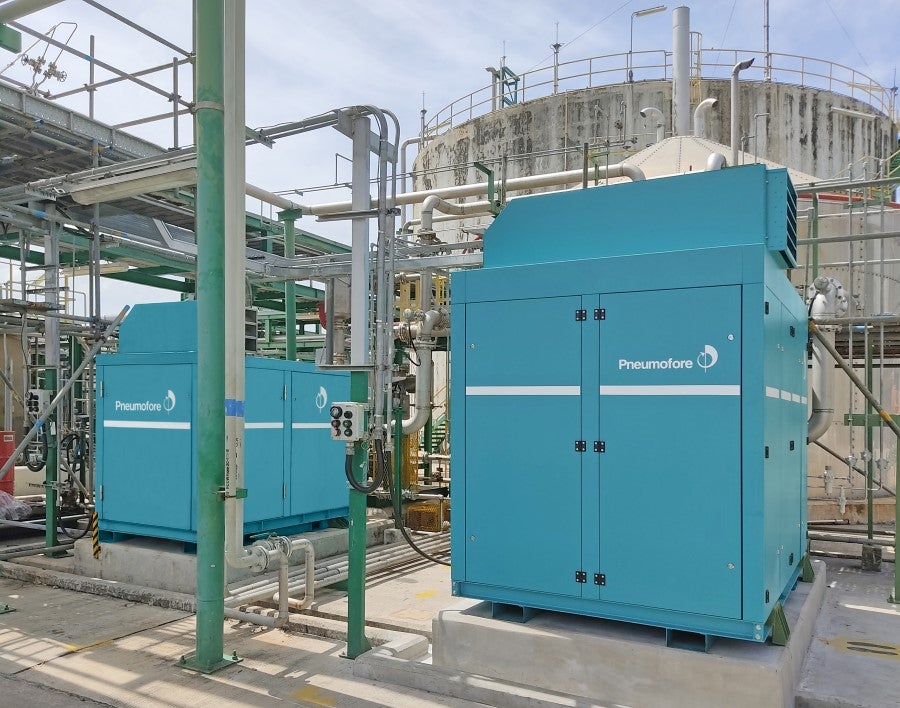 Two Pneumofore K120.4 gas compressor systems operating in the oil and gas industry in Thailand.
The sturdy rotary vane air-ends feature a minimalist design with only two bearings, no consumable parts and durable housing for optimum protection in extreme deployment locations.
The simplicity of the pumps' design, along with the efficiency of the direct coupling, enables the system to achieve low rotation speed and, consequently, a low operating temperature, which decreases power consumption and vapour emissions, while improving overall reliability.
Pneumofore's air-end components are fully ATEX-certified for Zone 1 applications and have been successfully deployed in a variety of installations across Europe and Asia for gas and vapour recovery operations.
Transportable air-cooled vacuum systems for pipeline drying applications
Pipeline drying using vacuum technology can be conducted faster and more economically using pump systems that have been purpose-designed to effectively evacuate water vapour.
Pneumofore's vacuum solutions exceed expectations regarding the duration of pipeline drying processes. For example, the 75kW, single-stage UV50 rotary vane pump is capable of removing 214kg/h of water vapour with the capacity of 3,240m³/h without the need for supplementary power supply. Additional vacuum stages can also be added to the backing pump depending on the final dew point. The company's ready-to-use air-cooled vacuum systems can easily fit mobile operations on trucks, containers or vessels, both offshore and onshore.
Double-stage vacuum pumps for pipeline drying processes
Pneumofore's rotary vane vacuum systems operate in a single-stage configuration during the initial phase, down to a pressure level of approximately 50mbar(a). The second-stage roots pump is then activated in order to increase the system's capacity and improve the ultimate vacuum level, down to roughly 0.03mbar(a), until the final dew point is reached.
The two pump stages are assembled into a single heavy-duty frame to facilitate easy lifting and handling, and the system requires only a power supply and single pipe connection for operation. The pump can be easily transported to and from deployment locations in a protective, easy-to-carry container.
These highly convenient vacuum pumps have a proven track record of achieving excellent pipeline dryness compared to other solutions, and also avoid the excessive time and cost requirements encountered with methods such as methanol swabbing. In addition, these vacuum solutions are able to address further air-drying issues, such as extracting water from side-pipe traps.
Pneumofore technologies evacuate water vapour continuously while consuming a minimal amount of power and avoiding the need for cooling water, chillers or towers.
Versatile gas compressor systems for the petrochemical sector
Pneumofore's compressor systems meet the gas compression requirements of a wide variety of industries worldwide, including the oil and gas, chemicals, and power sectors. These rugged, premium-quality gas compressor units have been specially designed to comply with the latest and strictest safety specifications, such as the ATEX directive for Zone 1.
Our versatile gas compression solutions are compatible with an extensive selection of gases, including methane (CH₄), ethane (C₂H₆), carbon dioxide (CO₂) and nitrogen (N₂), as well as biogas and natural gas, making them ideal for a broad range of industrial applications.
The company's dependable rotary vane technology facilitates trouble-free operation and consistently reliable performance over the entire project lifecycle, in addition to offering some of the lowest overall operational costs available on the market.
Air-cooled mobile compressors and vacuum systems for remote environments
Pneumofore provides ready-to-use solutions for mobile deployment on board trucks, containers and vessels, both onshore and offshore.
These innovative rotary vane compressors and vacuum pumps are often used as a replacement solution for problematic liquid-ring vacuums and hyper-dry compressed air and gas units due to their significantly reduced power consumption and lack of need for water during operation.
They also feature simple, minimalist designs for increased original equipment manufacturer (OEM) independence, along with easy operation and hassle-free, in-field maintenance capabilities.
The extremely hard-wearing design and build quality of Pneumofore's systems meet the specifications for mobile applications on truck trailers, even on unpaved roads or in isolated locations where cooling water isn't readily available, as evidenced by Gazprom's operations in Russia.
Powerful ATEX-accredited compressor systems for explosive areas
Pneumofore's compressor systems are appropriate for installed power rates of up to 630kW, as well as pressures from 2.5bar(g) to 10bar(g), and are equipped with an exclusive air cooling system to ensure high-performance in hot climates.
These compressors' simple and effective design features direct coupling and low rotation speeds with only two bearings, few moving parts and very low compression temperatures. The reliable rotary vane concept allows for higher efficiency and significantly reduced risk of explosion compared to other systems.
Pneumofore also provides special designs that are carefully optimised for deployment on offshore installations, as well as heavy framed-variants for easy lifting operations and tailored solutions for use in underground mines upon request.
Our cutting-edge systems are rigorously tested and certified for Atex Zone 1 applications, which ensures superior safety and reliability during operations in hazardous areas and ex-proof zones.