European Technology Development (ETD) is an international consulting company providing services to power and process plants worldwide. ETD's consulting work is unique in that it is backed up with world-class collaborative R&D.
ETD's consulting services cover areas such as:
Plant life assessment / extension (both deterministic and probabilistic)
On-site services such as replication, boroscopy, hardness, scanning force microscopy for creep, fatigue and corrosion damage assessment, boat sampling, NDE guidance and supervision
Fitness-for-service (FFS)
Stress and FE analysis (Caesar 2, Abaqus, Ansys)
Weld and weld repair assessment
Root cause failure analysis and remedial measures
Crack assessment
Design review and improvement (especially for plant cyclic capability)
Risk-based management / inspection / maintenance
Benchmarking for plant performance, efficiency improvement, costs, failures, forced outage, etc.
Water chemistry and flow-assisted corrosion (FAC)
Power plant performance assessment
ETD's structural integrity team consists of internationally recognised experts and can provide full analysis, which includes material properties analysis, stress analysis, creep and fatigue fracture and crack / defect assessment procedures using fitness-for-service 'Fitnet', BS7910, R6, R5, API579, EN12952 and RCCMR-A16. ETD also supports with design solutions to overcome weaknesses in structures.
Power plant performance assessment using the benchmarking approach for conventional, CCGTs and cogeneration plants is a very beneficial practice for plants trying to improve operation, maintenance, efficiency and other such factors, and reduce costs. The critical analysis of various performance indicators and their comparison with ETD's large database is carried out to identify gaps and/or areas of improvement that influence plant availability and can help utilities to set realistic targets for best practices and performance improvement.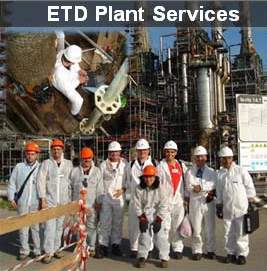 ETD at a Rome refinery together with the plant engineers.

Boat sampling using electrical discharge sampling equipment (EDSE).

Portable 'damage assessment-scanning force microscopy' DA-SFM for nano- and micro-level creep, fatigue, corrosion damage detection and study for life assessment.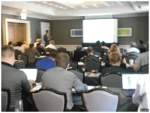 ETD training course in ASME P92/ P91 Martensitic Steels, 2-3 August 2011, Chicago, US.

Defect assessment for a tee joint.
Integrity and life assessment of boilers, HRSGs and turbines
Integrity and life assessment of boilers / HRSGs, turbines (both steam and gas) and auxiliary equipment is our speciality. We have extensive experience in steam pipeline integrity and life assessment. We have just completed integrity and remaining life assessment of 12 boilers in Saudi Arabia, two HRSGs in Malaysia and are currently supporting Korean companies in the inspection, quality assurance and damage assessment of four sets of steam turbines and HRSGs, and a Middle Eastern company with the integrity assessment of a gas turbine.
Risk-based management and inspection of power plants
Increasingly these days maintenance managers are finding that there is less time (and/or money) available to do the amount of maintenance that they would like to do. There are a number of ways to assess the priority that should be given to maintenance or inspection tasks but increasingly a risk-based approach is preferred. ETD has developed risk-based maintenance guidelines/procedure known as 'Riskfit' specifically aimed at power generating equipment.
The main objective of risk-based maintenance is to allow a framework to identify and measure the risk areas and thereby allow optimised focusing of available resources.
Crack / defect assessment procedure and software
'Crackfit', a commercial software developed by ETD in collaboration with some of the European industry, deals with the assessment of cracks / defects in both low and high-temperature plants. The software contains a range of component and crack geometries experienced in high-temperature plants and a database and materials properties relevant to crack assessment.
ETD's specialist tools
ETD is the European and world leader in providing probabilistic plant life assessment, probabilistic crack assessment, 'boat sampling' using our unique electrical discharge sampling equipment (EDSE) and scanning force microscopy (SFM) for creep, fatigue and corrosion damage assessment. ETD can perform modelling of plant operation / start-up / cycling costs, and guidance on plant cyclic operation / two-shifting / load following.
ETD team
The ETD team offers unparalleled expertise in plant asset integrity and on-site life assessment. The team consists of highly qualified metallurgists, mechanical engineers, FAC, water chemistry and corrosion specialists who can provide peace of mind to plant owners and operators by reducing technical and business risk.
The team can respond promptly to shut-downs or form part of a predictive / preventative maintenance strategy, and can therefore be considered an extended part of a company's planned or unplanned outage. We bring highly specialised and experienced personnel to time-critical situations to minimise loss of production or to maximise the longevity of assets and profitability.
Training courses
As part of its technology transfer programme ETD regularly conducts bespoke and routine training courses around the world. Examples for 2012 include:
London: 11-15 June – Course in High Temp. Plant Life Assessment (including P91 issues, crack assessment, codes, analysis, staged approach to lifing)
USA (Charlotte, North Carolina): 26-27 November – Course in 'Crack Assessment in Plant – both at low and high temperatures'; 28-30 November – Int. Conf. on 'Power Plant Cyclic Operation'- Conventional Plant + CCGT; 26-29 November – Course in 'Gas Turbine' issues