Sword CTSpace is one of the world's leading suppliers of specialist software for document management, business process automation and project collaboration, with a strong expertise in the energy industry. Its multi-language solutions (available in ten languages) are available as software as a service (SaaS) or as extensions to leading ECM platforms such as:
Microsoft SharePoint™
IBM FileNet™
EMC Documentum™
Enterprise content collaboration (ECC) for capital-intensive programs
Renewable energy projects are typically long term and high value. Delivering projects on time and within budget is critical, as is ensuring global project control.
Effective management of documents and information exchange is key to success. Traditional methods such as paper documents, emails, CDs and couriers are not sophisticated enough for today's complex projects.
An unstructured approach is expensive and can lead to each organisation having an isolated silo of information. Online collaboration solutions are increasingly deployed to manage project information, link geographically dispersed organisations and enable team members to collaborate in real time.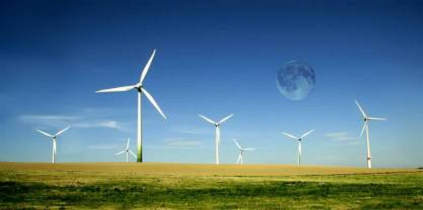 Sword CTSpace is the global market leader in providing enterprise content applications that support any company in the energy industry in the feasibility, engineering, design, build and operation of large assets.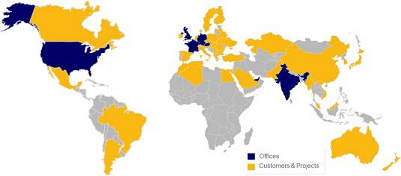 With over 13,000 projects in 56 countries, Sword CTSpace is experienced at providing global support for international projects and organizations.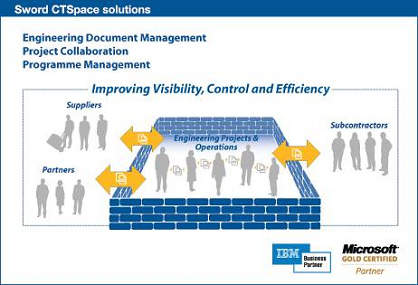 Sword CTSpace provides engineering document management, project collaboration, and program management and business process automation solutions for the design, engineering and construction of capital-intensive projects worldwide.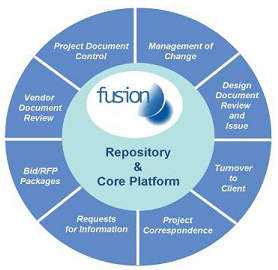 Companies in the energy industry are more effectively managing programs and projects by using Sword solutions to improve visibility of information, increase project efficiencies and estimate accuracy.
Energy-industry operating-cost reduction, efficiency-improvement and risk-mitigation software
Sword CTSpace serves hundreds of organisations around the world, enabling them to improve internal and external communications, therefore optimising the execution of projects and programs and demonstrating measurable business benefits. Sword CTSpace's software allows companies in the energy industry to reduce operating costs, improve efficiencies and mitigate risk with a consistent audit trail of all activity.
Renewable-energy project design, construction and operation software
Customers use Sword CTSpace solutions for diverse renewable energy projects. Some examples are listed below.
Wind-farm project design, construction and operation software
An example of Sword CTSpace technology's use in wind farm developments is Centrica Energy, which is using it to help manage the design, construction and operation of its £750m capital investment wind power programme in the UK.
Hydropower project design, construction and operation software
Sword CTSpace's solutions also enabled Odebrecht to complete a $640 million hydropower project six months ahead of schedule in Brazil's Tocantins Basin.
Hydrogen-fueled power plant design, construction and operation software
BP Alternative Energy deployed Sword CTSpace's workflow and business process technology on its five-year project aimed at designing, deploying, operating and maintaining a 500MW hydrogen-fueled power plant in Long Beach, California.
Biomass-derived power plant design, construction and operation software
Strabag is using Sword CTSpace's solutions for the construction of a new biomass-derived power plant in Jessen, Germany. BP Solar deployed Sword CTSpace's document management and business process automation solutions to assist the business in the design and development of photovoltaic cells, which are the core component in solar panels.
Customer testimonials
"We believe this technology will allow us to improve the way in which we work, not just across our development team, but also with our contractors and suppliers. We can now work with them as though they were extended members of the team" (Ross Ovens, project manager, Centrica).
Why Sword CTSpace?
The Sword Group maintains strong partnerships with major Enterprise Content Management (ECM) providers, including Microsoft (SharePoint) and IBM (FileNet). Our products significantly extend these systems as opposed to just interfacing to them. Sword CTSpace offers all the forms of deployment that a company might require. For those who wish to retain full control over the installations there is the option to take a product in-house.
Our solutions also include the subscription option of SaaS, enabling a project to be operational without the need to install the applications. This option provides low cost of ownership and avoids delays in procuring additional hardware, as it is ideal for projects where suppliers, partners and sub-contractors need to collaborate. Since the SaaS solution is outside any one company's firewall, the main barriers to external collaboration are removed.
With over 13,000 projects in 56 countries, Sword CTSpace is experienced at providing global support for international projects and organisations. Multi-language support is available along with an extensive network of offices and technical staff to assist with implementations worldwide.
Sword CTSpace is a business unit of the Sword Group. Sword's stability as a company is underpinned by its size, financial strength and growth; key factors in selecting the Group as your long-term business partner.