Justrite is a portfolio company of Justrite Safety Group.
Since 1906, Justrite has been recognised as an industry leader in the safe management of flammable liquids and other hazardous materials. Today, our products include safety cabinets and large outdoor storage buildings, safety vessels and containers for laboratory and industrial applications, spill containment, secondary spill containment, safety showers and eye / face washes, gas cylinder handling equipment and a range of custom-engineered solutions.
About Justrite Safety Group
Justrite Safety Group is a growing family of industrial safety companies. Together, we protect workers, workplaces and the environment with a comprehensive range of industrial safety solutions. All Justrite Safety Group portfolio companies are united by deep safety knowledge, long experience and a commitment to protecting people, property and the planet.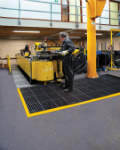 Notrax anti-fatigue matting being used at an industrial workstation.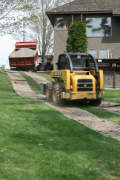 TuffTrak AlturnaMATs used to protect a lawn from construction equipment.

Monster wheel chocks keep this haul truck in place.

Linebacker Guard Dog Series cable protectors protect these cables from damage while eliminating trip hazards.

Linebacker Yellow Jacket Series cable protectors in use at a NASA facility to ensure a safe work space for the engineers and scientists.

Monster speed bumps are long lasting premium solutions to keep parking lots safe for both vehicles and pedestrians.

TuffTrak AlturnaMATs protect the delicate landscaping of this golf course.

Notrax anti-fatigue matting provides an ergonomic cushion for employees in this warehouse.

Notrax anti-fatigue matting provides comfort for employees working in this kitchen, while the drainage holes keep the workspace clean.

Monster aviation chocks are often used by the military, as they don't splinter, therefore eliminating foreign object damage to aircraft.
Checkers™ manufactures reliable vehicle and motion safety products, cable management systems and ground protection mats to save people's lives and protect company assets.
The power industry has been a long-term partner and focus of Checkers Safety Group. The company is a US-based safety products manufacturer that ensures every product is of a high-quality and excellent value. Many of our products are site-tested, while wheel chocks are Mine Safety and Health Administration (MSHA) compliant.
Vehicle and motion safety products for the power industry
Checkers develops vehicular and pedestrian safety products for motion-related activities.
We offer a wide variety of products, including wheel chocks, warning whips, barricade lights, composite cribbing, industrial beacons and strobes, parking lot safety solutions and vehicle identification signage.
Solutions are produced with high-quality materials and efficient methods, which has enabled us to create one of the most reliable safety solutions in the industry.
The company's wheel chocks are known worldwide and are essential at every power facility to enable efficient positioning while ensuring the safety of personnel and vehicles.
Warning whips and signals are long-lasting and offer high visibility levels.
Our parking lot safety solutions, which include parking curbs and speed bumps, are designed with durable, high-performance rubber to ensure a high return on investment.
Cable management systems for mining and power applications
Checkers manufactures cable management systems and ramps, as well as hose bridges to prevent damage in a multitude of industries. They also protect pedestrians and vehicles from cable exposure.
Cable protectors are made with durable polyurethane, which is both stronger and lighter than similar rubber or metal products. This portability makes setting up cable protectors simple, while the durability gives the products a much longer lifespan.
Checkers offers solutions for heavy-duty mining and power applications, as well as indoor office environments. While many models feature hinged lids, drop-over, open-top and low-profile models are also available, ensuring Checkers has a solution for every type of cable and application.
Ground protection mats for heavy and light duty equipment
Checkers ground protection mats are manufactured from composite material, making them a cost-effective alternative to wooden products.
Checkers provides a ground protection solution for any application in the mining, oil and gas, heavy construction, transmission and landscaping industries. The brand's solutions include durable mats capable of supporting cranes and other heavy equipment, as well as light-duty access mats for trucks and construction equipment.
Checkers mats keep both personnel and vehicles moving with traction patterns designed to optimise grip and safety in rugged terrain projects.