CG Power Systems is one of the world's top ten manufacturers of three-phase transformers. Crompton Greaves (CG) is part of the $3bn Avantha Group, a conglomerate with an impressive global footprint.
Since its inception, CG has been synonymous with electricity: in 1875, a Crompton 'dynamo' powered the world's very first electrically lit house in Colchester, Essex, UK. CG's India operations were established in 1937, and since then the company has retained its leadership position in the management and application of electrical energy: today it is India's largest private sector enterprise.
Three-phase transformers range
CG Power Systems stands for innovative, high-quality, reliable transformers, respect for the environment and service to customers around the world. By creating a dynamic and flexible company focused on these key points, CG Power Systems continues to operate as a 'full-line supplier' offering high performance, proven reliability and maximum return on investment for its customers.
The company's full range of transformers consists of: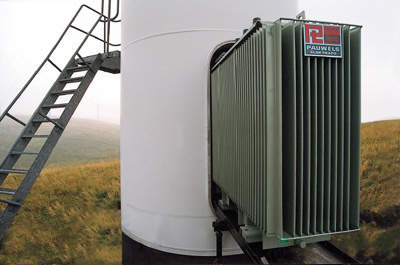 Installation of compact SLIM® transformer in wind turbine with NOMEX insulation and silicone liquid; product range up to 5,5MVA/36kV.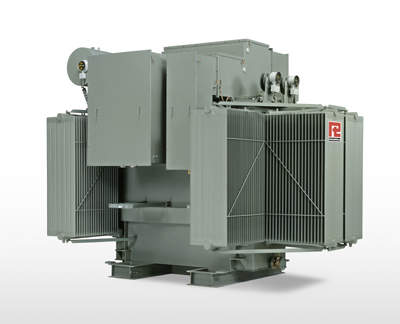 Liquid-filled distribution transformers 100kVA to 10MVA/36kV; special distribution transformers such as Big DT concept with a product range up to 15MVA/36kV.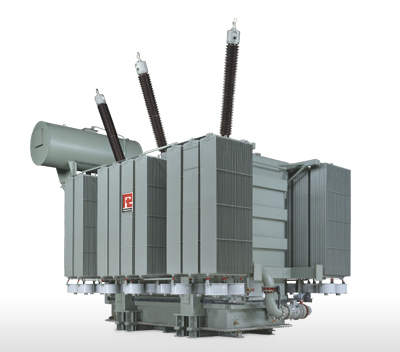 Power transformers 5MVA to 575MVA/525kV, auto-transformers up to 700MVA/525kV and HVDC station transformers up to 315MVA/500kVDC.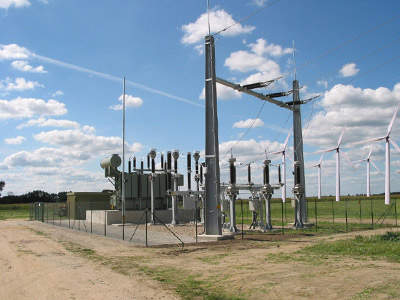 Compact substation designs such as transformer switch units (TSU), WindSubs or modular substations; AIS and GIS substations up to 500kV.

Mobile (hybrid) substations and mobile transformers up to 245kV.
Liquid-filled distribution transformers for the distribution of electricity to consumers (15kVA to 10,000kVA / 36kV)
Cast resin transformers (up to 10,000kVA / 36kV) as an alternative to liquid-filled distribution transformers, with the emphasis on reduced environmental impact and increased fire safety
Small power transformers (up to 20MVA / 69kV)
Power transformers (up to 575MVA / 525kV) for the transmission of electrical energy
Auto-transformers (up to 700MVA / 525kV)
Transformers for HVDC stations (up to 315MVA / 500kV DC)
High-performance, reliable three-phase transformers
CG Power Systems transformers are renowned for their high performance and proven reliability. They are optimized to meet customer specifications with respect to energy losses, noise levels, dimensions and weight. The CG Power Systems range of transformers has achieved top rank status in terms of energy efficiency, noise level and compactness.
Precise and thorough quality control before, during and after each stage of the manufacturing process ensures that all CG Power Systems products meet the very highest international quality standards.
As a consistent guarantee of the highest quality, CG Power Systems works closely to ISO 9000 standards, and has achieved ISO 9001:2000 certification for all its production plants.
Sales and customer service for three-phase transformers
The CG Power Systems Group is a market-driven organization. The company is structured to ensure the shortest possible lines of communication between customers and Group companies. A network of small, efficient sales offices and specialist representatives supports CG Power Systems' sales department with an expert knowledge of local conditions and of the customers' requirements.
The CG Power Systems strategy is based on creating solutions for its customers, combining state-of-the-art technology and manufacturing with international contracting and after-sales services, ensuring that any project need is met, anywhere in the world.
Turnkey substations and mobile transformers
The company also specializes in electrical turnkey projects such as:
AIS and GIS substations up to 500kV
Mobile (hybrid) substations and mobile transformers up to 245kV
Compact substation designs such as transformer switch units (TSU), WindSubs or modular substations
Its core activities include transmission line projects and electrical installations for the wind energy industry.
The success of CG Power Systems is also based upon the energetic and consistent application of a complete range of professional project management services.
Installation, repair and maintenance of transformers
CG Power Systems also offers a full range of after-sales services: it installs, repairs and maintains transformers worldwide.
The company works with group service organizations in Mechelen (Belgium), France, the US, Saudi Arabia, Indonesia and Curaçao, to form a worldwide network.