Young & Franklin
Industrial Turbine Control Valves and Actuators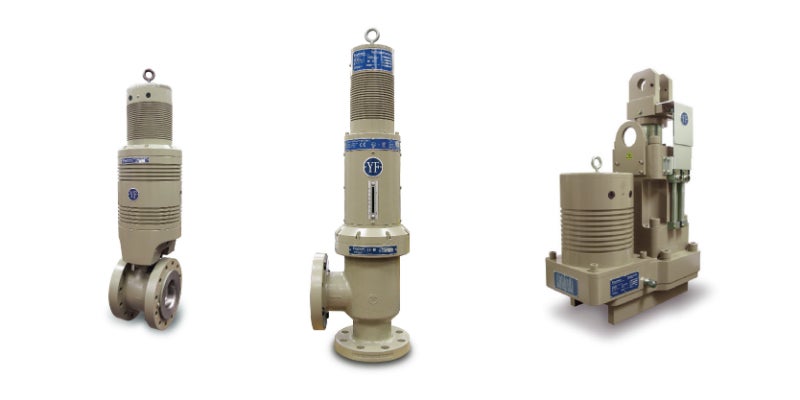 Young & Franklin (Y&F) is a premier design and manufacturing company for combustion turbine fuel control systems. For almost 100 years, our engineers have tackled the most challenging applications in process industries and controls, and are at the forefront of development and implementation of state-of-the-art electric systems that will upgrade the safety, control, accuracy, performance and reliability of turbines, while improving emissions and resolving potential varnish issues.
Y&F develops standard component products, as well as complete engineered solutions for OEMs and aftermarket applications. With more than 23,000 turbines installed globally, Young & Franklin's experience and quality products make us a primary supplier to the world's industrial turbine market.
Our products are installed on turbines used for land, as well as offshore platform-based power generation and pipeline compressor drives.
Hydraulic actuators for the power industry
For over 70 years, customers such as GE Energy, Solar Turbines, and Pratt & Whitney have relied on Young & Franklin's hydraulic expertise to control their turbines.
Our robust actuators provide the basis for high force, fail-safe, reliable hydraulic control systems. More information about our hydraulic capabilities can be found at the end of this profile. Products in this category include:
8577 IGCC valves – for up to 16in line sizes – patented high torque actuation guarantees smooth closing for SYNGAS processing – read about our IGCC experience online (see links below)
8580 gas fuel valve assemblies – for 1in to 10in line sizes, natural gas or SYNGAS – offerings include electric or hydraulic trip relays
8277 dither-resistant inlet guide vane actuators – for large turbines – 1,200psi to 1,700psi hydraulic pressure
Electromechanical actuators and valves for energy facilities
Young & Franklin has a proven electromechanical actuation (EMA) product line that will drop in and replace your hydraulic system. From control valves to guide vane actuators, Young & Franklin provides customers products that allow users to entirely remove their hydraulic systems. This eliminates all issues associated with hydraulic systems, including leaks, servo failures, and general hydraulic maintenance.
Whether you have the newest DLN or diffusion fuel system, Young & Franklin can replace your hydraulics with the following products:
3010 Series EMA gas fuel control valves – 1in, 2in, 3in, 4in, and 6in with balanced valve design, spring closure for added safety and reliability
8655 Series EMA stop/ratio valves – 3in, 4in, 6in and 8in stop/ratio valves featuring a class IV or VI seating and a <200ms trip time.
8650 Series EMA guide vane actuators – inlet and nozzle guide vane with or without failsafe springs and brakes.
7600 Series EMA combined valve – stop/ratio and control functions all in one package that meets the same footprint as existing combined valves.
8662 Series EMA splitter and transfer valves – 3in, 4in, 6in, and 8in valve sizes available.
9200 isolation valves – single stage, solenoid operated, pilot controlled – drop-in replacement for 1in to 3in line sizes – closes in <100ms and has a Cv of 80 – SIL 2 double block and bleed system also available
Young & Franklin's EMA provides the user with substantial lifetime cost savings over their hydraulic counterparts. To find out more, please contact Young & Franklin for a free project survey.
Heat-dissipating voice coil actuated valves
For low force, high-precision actuation applications, Young & Franklin provides a voice coil actuated valve. Our direct-acting heat-dissipating voice coil actuated valves have on-board integrated electronics that communicate with the provided controller package to deliver precision and reliability with no contact between moving parts. Some products in this category include:
7-2000 low-pressure liquid fuel valve – for use with your lube oil pressure, the Y&F 7-2000 offers low-pressure (12psi to 700psi) servo control, and is currently qualified on smaller Low-NOX OEM packages
Comprehensive repair and overhaul services for the power industry
We offer extensive renovation services for all Young & Franklin products. This is offered at our headquarters in Liverpool, New York, US.
Y&F has also joined with local professional partners to offer factory-authorised repair and overhaul facilities for our global clients.
With more than 60 years of remanufacturing expertise, the company restores used and end-of-life products to nearly-new working condition by replacing worn or damaged components, and updating products to the latest design.
The complete renovation process includes five steps:
Incoming inspection and test
Complete disassembly
Remanufacturing
Engineering and assembly updates
Test and paint
Young & Franklin's repair and overhaul services use only specified OEM parts and procedures, and are carried out by highly trained technicians using the latest production drawings and work instructions.
The overhaul service incorporates all design improvements, offers a "Same-as-New" warranty coverage, as well as a complete device history record maintained by Young & Franklin.
The company's speedy and consistent services offer an economical and eco-friendly alternative to buying new equipment with spent fluids and materials being handled in an environmentally responsible manner.
In order to minimise downtime, Young & Franklin stocks spare parts and assemblies.
Press Release
Young & Franklin has been featured alongside other manufacturers in Power Engineering International's Volume 25, Issue 2, where the company discusses its valves and actuators.
Read more
Young & Franklin, Inc.
942 Old Liverpool Road
New York 13088
Liverpool
Other
United States of America
+1 315 457 3110
+1 315 457 9204
info@yf.com
www.yf.com