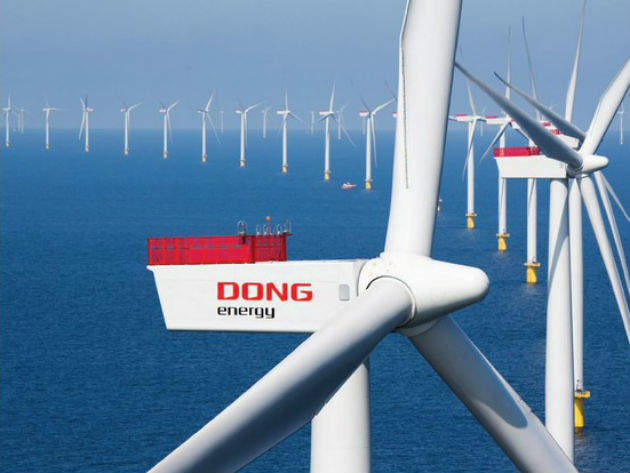 The inexorable shift towards renewable energy in Europe, particularly wind, is gathering momentum and could soon be reaching a tipping point. The European Union, in partnership with both industry and national governments, is looking to scale-up a number of technologies that could lead to the commercial development of very large offshore windfarms.
Danish energy company DONG Energy took Europe's energy market by storm with its announcement in November that it would quit the oil and gas industry entirely, to focus instead on renewable energy.
Soaring wind profits, which rose by 68% in the first half of this year, helped the company's valuation hit £10bn. Following the surge in the first half's wind profits, which contributed to overall company growth of 34%, DONG Energy CEO and president Henrik Poulsen made the shock statement that the company had decided to start the process of "ultimately exiting from our oil and gas business".
This process includes DONG's entire North Sea oil and gas assets, which will be offloaded and are now up for sale. The company currently has seven large offshore windfarms under construction, totalling 4.4GW and Poulsen said the move should be seen in the context of DONG Energy's strategic transformation "towards becoming a global leader in renewable".
The energy switch is building momentum
At the start of the year, German energy giant E.ON spun-off its fossil fuel plants into a separate company, Uniper, in order to focus on renewable energy. In September, it relinquished its control of Uniper by selling a 53% stake in the company and retaining 47% through a listing on the Frankfurt Stock Exchange.
RWE AG, E.ON's closest competitor, has also moved decisively in the direction of renewable energy. This comes amid the appalling 2015 results for its non-renewable energy activities. Profitability of RWE's nuclear, coal and gas energy plants fell by 45% year-on-year to €543m ($596m). By comparison, operating profit at RWE's renewable energy sector more than doubled from €186m ($204m) to €493m ($541m) over the same period.
In a statement CEO Peter Terium said: "Renewables are increasingly becoming a main pillar of our business." He added that the group's entire focus this year has been on restructuring itself to lay the foundations for further renewable growth. Recently, the company added around 1GW of new windfarm capacity worldwide, including the 295MW Nordsee Ost and 576MW Gwynt y Mor offshore projects.
The potential is enormous
As of this year, the UK is the world's leading developer of offshore wind power with a total installed capacity of more than 5,000MW. With a capacity of 630MW, the London Array, located on the Thames Estuary, is the scale of a medium-sized gas-fired power station and is the world's largest offshore windfarm.
The proposed Hornsea Two project offshore site, situated more than 100km from the east coast, will be even larger. The project recently received UK Government approval and together with the neighboring Hornsea One, will provide up to 3,000MW, thereby dwarfing any of the offshore windfarms that have already been built.
"The proposed
Hornsea Two project
offshore site will be situated more than 100km from the east coast."
The EU's Research and Innovation funding programme recently concluded a four-year study into offshore wind energy. DeepWind has the objective of commercially developing a new turbine concept based on a vertical axis rotor and a floating and rotating foundation. Another EU initiative, the slightly delayed Industrialization Set-up of a Floating Offshore Wind turbine (INFLOW) project, seeks to launch a pilot windfarm.
However, it is relying on the results of the onshore wind turbine prototype of the VERTIWIND and VERTIFLOAT projects. Delays to these two have impacted on the INFLOW project roadmap and the European Commission has now granted an extension of the programme until August 2017. Meanwhile, the UK Government's recently funded Novel Offshore Vertical Axis turbine (NOVA) project successfully demonstrated that vertical-axis offshore power generation is commercially viable.
Nova has collaborators from Cranfield, Sheffield and Strathclyde universities and is being developed by OTM Consulting. The team aims to have 1GW of offshore vertical axis turbines installed by 2020.
'Deep' offshore still a challenge
So what are the technical and infrastructural limits, if any, to the construction of offshore windfarms? At present, the UK is able to benefit from the fact that it is largely surrounded by shallow waters. The giant Dogger Bank offshore windfarm, Teesside A and B that would feature 400 turbines and could provide power for up to two million homes, for instance, is located more than 100km from the coast.
Yet the sea is less than 30m-deep in much of the area, allowing support structures fixed rigidly to the seabed, to be deployed. But as the industry moves into deeper water this technology becomes increasingly less viable. The problem is that although floating foundation technology is common in the oil and gas industry, it is still at a prototype stage for offshore wind. When floating foundation technology is developed, vertical vertical-axis wind turbines (VAWTs) will be crucial in enhancing its several advantages.
Maurizio Collu, lecturer, Offshore Renewable Energy Centre in Cranfield University, UK and Michael Borg at the Department of Wind Energy in the Technical University of Denmark, argue this is because unlike traditional horizontal-axis turbines that are very top-heavy with the blades weighing several hundred tonnes, the centre of gravity for VAWTs generation systems is much lower.
VAWTs the technology fix
The obvious question is, if they are so advantageous why have VAWTs not yet been used? The main reason, say Collu and Borg, is that although researchers have looked at vertical axes for decades, it is still a new technology and there have been difficulties overcoming the various materials and bearing system limitations.
"The consortium behind the project then plans a pilot farm of 13 turbines (34MW), 17km offshore sometime after 2017."
But now governments and forward-thinking companies are investing in the potential of VAWTs for deepsea offshore wind. Companies such as the British VertAx Wind and Norway's Gwind are developing different design concepts, as is French company Nenuphar. It is pushing ahead with its VAWT design, with the final tests of its first floating windfarm off the coast of Marseilles conducted earlier this year. The consortium behind the project then plans a pilot farm of 13 turbines (34MW), 17km offshore sometime after 2017.
With all these developments in the pipeline the next decade could finally see offshore wind power move away from its previous role as a niche energy supplier and occupy a major part of Europe's total energy mix.
No fixed date
Although DONG's decision to move away from fossil fuels attracted widespread publicity, there is as yet no set date for its implementation. Tom Lehn-Christiansen, media relations for DONG Energy wind power said: "There is no timetable in place for the disposal of the oil and gas assets."
Ulrik Frøhlke, lead press advisor media relations group support at DONG Energy was equally cautious, saying it is the company's "ultimate goal" to divest its oil and gas business and that "this is part of our strategic transformation towards becoming a leader in renewable". She also warns that  "we cannot guarantee that we will achieve our goal of divesting oil and gas, nor say anything about the timing of this".
There are also some who believe that, with the end of November OPEC agreement to shave 1.2 million barrels per day (bpd) from global oil output likely to inject a bullish tone into the oil market next year, DONG may in fact wish to hang on to its oil and gas assets a little longer before disposing of them. DONG confirms that it expects its fossil fuels arm to be "cashflow positive" in 2016, a year earlier than previously expected.