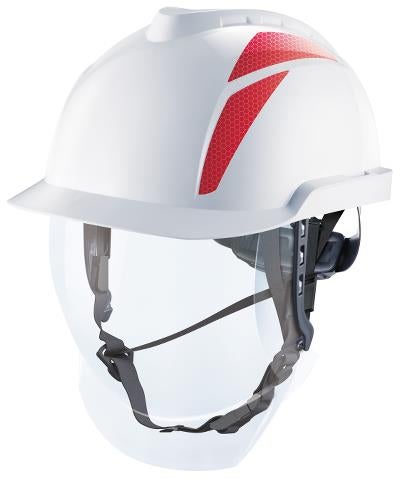 Compact design, unique visor mechanism and innovative arc flash ear-flaps of V-Gard 950 helmet are the direct result of the Electrician workers' needs. Its unique visor ensures great field of vision with premium anti-fog coating on both visor sides.
It provides Class 1 electric arc protection according to GS-ET-29. Optional earflaps extend the arc flash protection to the ears and cheeks.
V-Gard 950 helmet system is the most advanced above-the-neck solution for electricians available on the market today.
Features and benefits
Increased wearing balance and stability with 4-point chinstrap
High wearing comfort special pad at nape, low-sitting nape strap and replaceable sweatband
Extended GS-ET-29 Class 1 arc flash protection with optional earflaps
Ease of use is ensured by handy Fas-Trac III ratchet knob
Modern, custom design offers many shell colors, reflective stickers & logo printing
Working in gas, coal, oil, hydroelectric, renewable or nuclear power plants is challenging. From generation...
Workers are being exposed to a wider range of activities and hazards which requires PPE...