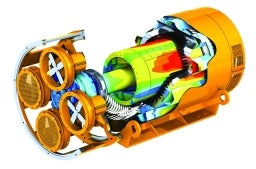 Emerson Industrial Automation, a business of Emerson, has announced a new high efficiency alternator line designed and manufactured by its business unit Kato Engineering.
At 1.5MW and above, the new 'LCF' alternators produce power at up to 98% efficiency with 0.9 PF load, based on IEC methods and calculations. LCF machines are available in 1MW to 4MW at speeds from 1,500r/min to 1,800r/min. Larger designs, up to 15MW, and slower-speed units, 750r/min to 1,200r/min, are planned for future development.
"For many years, the efficiency of an alternator has typically been in the 94% to 96% range," said engineering manager Kent Ross, who led the Kato team that designed the new alternator. "Being able to reliably produce another two percentage points more is considered a quantum leap."
With energy sources becoming more and more expensive, Kato Engineering was approached by its customers on both the gas and diesel engine side of the business and asked to seek ways it could increase their alternator efficiency. A development team was assembled in early 2008. The engineers at Kato concentrated heavily on two parasitic loss areas – friction and windage – Ross said.
"We started with a goal of making the revolving field more cylindrical to reduce turbulence and drag in the air flow. In the high-efficiency generator, the pole heads aren't chopping air as they spin around. We also wanted to reduce the amount of air going through the center of the alternator."
Several models were designed and tested from 2009 to 2011. Overall, it took four revisions of the original prototype to reach the 98% goal for the largest generators and a 1.5% to 2% gain compared with other Kato units in this size range. A patent was granted for the new design on 19 July 2011, and the LCF model was introduced at the PowerGen exposition in Las Vegas in mid December.