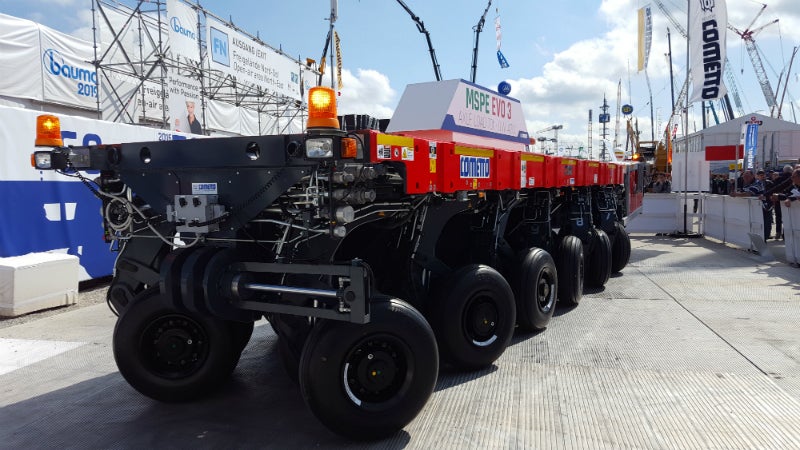 Industrie Cometto S.p.A., Italian manufacturer of trailers, semi-trailers and self-propelled vehicles presented three main innovations. The first was its new heavy duty modular trailer Series HDT-G that provides high torsional moment, greater resistance to lexion and high payload capacity of 45 ton/axle line at 0,5 km/h.
The Series HDT-G can be conigured for trailer / semi-trailer convoys or self-propelled vehicles when coupled with HDS-G (mechanical steering) or HDE-G (electronic steering). The vehicle exhibited at the show was a 4-axle moduleHDT-G 4 equipped with main accessories like towing header and hydraulic control panel.
The second product was its new self-propelled electronic modular trailer Series MSPE Evo3. In addition to the previous series of MSPE already available in its range of products and worldwide operating, Cometto presented the vehicle with the highest axle load payload capacity of the category: 70 tonne.
The main features of this model are reinforced chassis of higher strength and capacity, air inlated tubeless tyres, dual link high capacity suspension, compatibility with all the previous Cometto MSPEs. For the third consecutive bauma, Cometto launched a new series of modular self-propelled transporter with electronic steering (MSPE Evo3) providing an increasing technical axle load capacity (70ton), conirming once again as leading in capacity.
The third and inal innovation was the company's transport management software COSMO developed by it for 3D transport simulation with modular trailers. Thanks to its several features, it is possible to previously verify the stability condition, load optimisation, frame reaction, traction, steering radius, etc.