Supreme was established in 1970 as a steel-based engineering unit with an annual capacity of 3,600t. It has since diversified and grown into a leading multi-product engineering unit with a combined annual capacity of 25,000t, producing galvanised steel fabrications and a large range of aluminium, copper, plastic and rubber accessories to cater to the global requirements for towers, hardware and accessories for power transmission and distribution lines.
Power transmission and distribution line accessories and products
Supreme offers a comprehensive range of power transmission and distribution line accessories and products from 0.4kV to 400kV which are subjected to stringent quality control checks both at the time of manufacturing and before shipment.
Since its inception, Supreme has had a clear focus on the export market. The company started exporting its products in 1972 and now ships to more than 50 countries around the world.
The company is certified as per ISO 9001:2000 guidelines, as well as per ISO 14001:2004 for its environmental management system. Supreme's product range includes: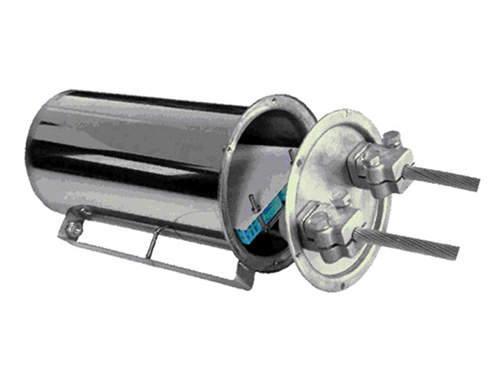 Outdoor optical joint box.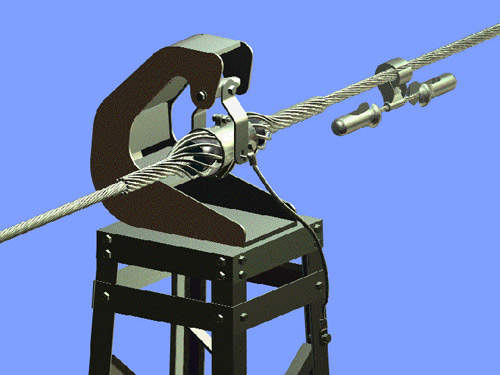 OPGW suspension arrangement.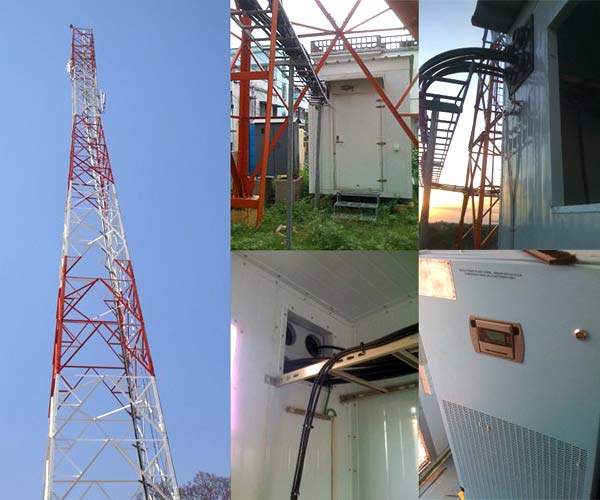 Communication tower and mobile cell site.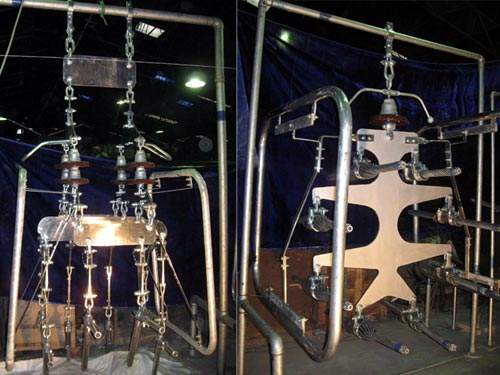 1,200kV hardware prototype.

Fibre-optic connectivity solutions.
LV and MV ABC accessories
LV MV and EHV insulators-hardware and conductor accessories
Earthwire OPGW and ADSS fibre-optic accessories
Line conductor, OPGW and earthwire motion-controlled fittings
Helical accessories
Industrial fasteners
Sub-station structure, clamps and connectors
Transmission and telecom structures
Rigging hardware
Live line installation of aerial fibre optics
Protection, control and automation of operations in a real-time environment are becoming critical requirements for power systems. Various communications media were deployed in the in the past for SCADA systems and distribution automation like power line carriers (PLC), copper cables, microwaves, etc.
Advantages of optical fibres are high bandwidth, immunity to EMI and lightning strikes, and freedom from earth potential differentials between different sites. This fibre-optic system affords limitless potential to T&D utilities to provide interactive communication to customers. The improved, more reliable and faster communication with higher bandwidth that is afforded by fibre optics allows new functions to improve system restoration by immediate detection of outages, fault location and system isolation.
With proper engineering a purely optical integrated network can be installed with an optical communication backbone, with optical sensing and monitoring of parameters like voltage and current in real time.
Customised transmission and distribution line accessories
Our roots are Indian but our pursuits are global. We have made the successful transition from supplying products as per customers' designs and drawings to offering customised, integrated solutions.
The company has the design capability to reduce functional requirements to specific shapes and dimensions. It has in-house facilities and access to third party labs to validate the functional integrity of its products. We can also simulate many field conditions in-house to validate the compatibility of the design.
In-house testing and process control
Supreme products are routinely subjected to rigorous pre and post manufacturing control tests and process control. In-house tests set-ups consist of physical, chemical metallurgical and vibration testing laboratories, which are well equipped with state-of-the-art technology and equipment to carry out tests on the products in accordance with international standards and customers' specifications.
Supreme's in-house mechanical testing facilities are equipped with a vertical UTS machine with a 60t and 20t capacity, and a 60t (5m length) versatile horizontal test bed to carry out tests of tensile strength, slip tests, equipped hardness tests, elongation tests, wedge load tests, metallurgical microscope tests for inclusion and gain size, spectrometer tests for chemical analysis, and many more.
The company's chemical test facilities are equipped with a muffle furnace with thermostatic control, Strohlein apparatus and other equipment to carry out chemical analysis of different elements of ferrous and non-ferrous alloys, galvanised tests for the uniformity of zinc coating, etc.
Equipped with a 0kV-12kV/400A high-voltage transformer, high current injecting transformers and an electrical resistance test set-up, Supreme's electrical laboratory can perform a wide range of electrical tests.
Supreme also offers a damper vibration laboratory suitable for a large variety of tests, including fatigue and damper efficiency tests. We also offer a UV chamber for UV stability determination of rubber, plastic and polymers.