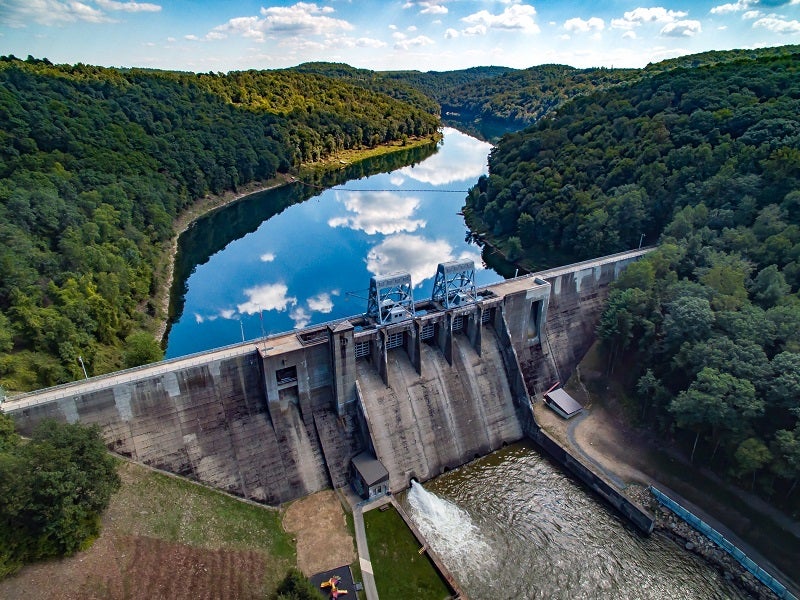 Government-owned electricity generator Ontario Power Generation (OPG) agreed to acquire US-based hydropower company Cube Hydro for an enterprise value of $1.2bn.
The transaction will be carried out through OPG's US hydroelectric platform. It is being acquired from I Squared Capital, an infrastructure-focused private equity firm.
Established in 2014, Cube Hydro operates small and medium-sized hydropower facilities in north-east and south-east US. It was formed when Enduring Hydro partnered with I Squared Capital to develop and buy hydropower plants.
---
GE Renewable Energy announced that it will test its Haliade-X 12MW nacelle and the 107m-long blade in the UK.
The advanced technology testing programme will focus on further improving the company's Haliade-X platform. Testing will be carried out at ORE Catapult's facilities in Blyth in the north-east of England.
LM Wind Power's factory in Cherbourg, France has manufactured the blade, which will undergo advanced testing procedures, including static and fatigue to demonstrate its performance in peak wind conditions.
---
Twenty renewable energy organisations signed the renewAfrica initiative, a scheme to encourage the acceleration of renewable energy in Africa.
The initiative was launched in Rome, Italy, on 4 June, when the non-binding declaration of intent was signed by groups, including Enel Green Power, Nordex, Siemens Gamesa and Vestas. The event in Rome was attended by UN executive secretary for Africa Vera Songwe and Anne-Charlotte Bournoville from the European Commission (EC).
The aim of renewAfrica is to 'decisively change' renewable access through partnerships between the public and private sector to create a 'favourable environment' for investments in green energy.
---
Global solar power company Solarcentury awarded a 500MW module supply contract to photovoltaic manufacturer Canadian Solar for two projects in Spain. Canadian Solar will deliver the solar modules for Cabrera (200MW) and Talayuela Solar (300MW) projects.
Nearly 1.4 million CS3U-P KuMax modules will be supplied for the projects, with each of the poly-crystalline KuMax module featuring an arrangement of 144 cells.
---
Danish wind energy company Ørsted commenced operations on the Hornsea One offshore windfarm off the coast of Lincolnshire, UK.
The windfarm will have a capacity of over 1GW when complete; almost double the size of the current world's largest offshore windfarm Walney Extension off the coast of Cumbria.
The windfarm is formed of 174 7MW turbines provided by Siemens Gamesa Renewable Energy (SGRE), 50 of which are currently operational. The installation of the turbines is expected to be completed by the end of summer 2019, with the windfarm becoming fully operational in early 2020. When finished, it will be able to power over one million homes in the UK.
---
French multinational integrated oil and gas company Total commenced commercial operations on its second solar power plant in Japan.
Located in Miyako, in Iwate Prefecture on Japan's Honshu Island, the 25MW peak solar plant will produce enough energy to power more than 8,000 Japanese households.
Total Renewables senior vice-president Julien Pouget said: "We are proud of the successful start-up of our second solar power plant in Japan. The success of the Miyako project is fully in line with our ambition to develop low-carbon electricity worldwide."
---
The New Jersey Board of Public Utilities (NJBPU) selected Ocean Wind as its first offshore wind energy project.
The project was proposed by Denmark's Ørsted and will see the development of a 1,100MW offshore wind farm.
The Danish company will receive support from Public Service Enterprise Group (PSEG), which could opt to become an equity investor in the project.
---
The UK Environmental Audit Committee (UKEAC) described the UK Export Finance's (UKEF) funding of fossil fuel projects in developing countries as the 'elephant in the room' that undermines the UK's climate targets.
Describing UKEF's support for fossil fuels across the world as 'unacceptably high', UKEAC found that of the £2.6bn UKEF spent on global energy exports between 2013 and 2018, £2.5bn went on fossil fuel projects.
For example, Turkish company ENKA UK received £578m in two payments to build two power projects in Iraq. ENKA filed as a UK company without an office or staff in the UK, and the projects in Iraq are predicted to produce around 6.9 billion tonnes of CO₂ equivalent a year.
---
ScottishPower received approval to build a super battery at Whitelee, the UK's largest onshore windfarm.
As one of the largest battery projects in the country, the battery storage site will be the size of half a football pitch.
ScottishPower noted that the planned battery storage centre would support the National Grid in maintaining the electricity grid's resilience and stability, even when the wind is not blowing.
---
US-based public utility NV Energy revealed plans to add nearly 1,200MW of new solar photovoltaic (PV) generation from three projects in southern Nevada, US.
The new plan is part of the company's long-term goal of serving its customers with 100% renewable energy and will also include 590MW of battery-energy storage.
NV Energy president and CEO Doug Cannon said: "Today's announcement demonstrates our commitment to bringing low-cost solar energy to our customers while helping Nevada be a leader in clean energy development and the addition of battery storage helps extend the benefits of these solar projects when the sun isn't shining."