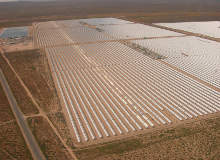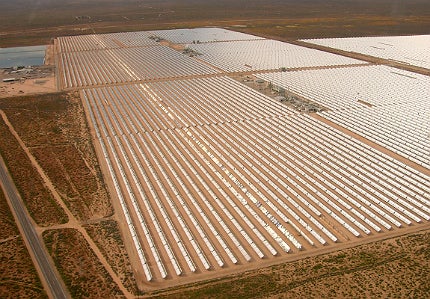 Solar Energy Generating Systems (SEGS)
Solar Energy Generating Systems is currently the largest operational solar power plant in the world. It is located in the Mojave Desert of California, US.
It has an installed capacity of 354MW and generates 662GWh of power annually.
The power project is a combination of nine solar plants, divided into three sections – SEGS I-II (44MW), SEGS III-VI (150MW) and SEGS VIII-IX (160MW). SEGS I-II commenced operations in 1986, SEGS III-VII in 1988 and SEGS VIII-IX in 1990.
All power generated is sold to Southern California Edison under a Power Purchase Agreement. Sunray Energy owns the SEGS I-II facilities, while NextEra Energy Resources owns and operates the remaining plants.
---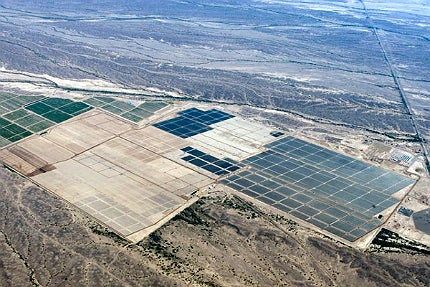 Agua Caliente solar project is located in Yuma County, Arizona, US. The plant has an installed capacity of 290MW, out of which 250MW is connected to the grid, generating 626.2GWh of power annually. The plant is expected to achieve full capacity by 2014.
The project includes Series 3 thin film panels rated at 75W to 77W each. The CdS/CdTe panels are placed at a fixed tilt angle. More than 400 SMA 720CP inverters are used for the project.
The power generated will be sold to Pacific Gas & Electric, California, under a 25-year Power Purchase Agreement. NRG Energy purchased the solar project from MidAmerican Renewables.
---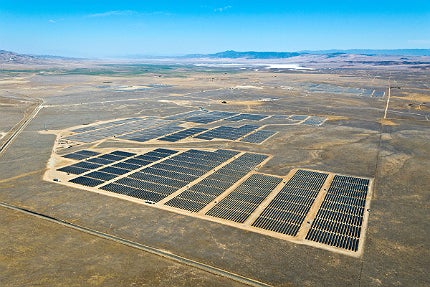 California Valley Solar Ranch is located in San Luis Obispo County, California. Construction of the 250MW solar photovoltaic power plant started in 2011 and 22MW was grid connected in 2012. The project was fully operational in June 2013.
The plant generates 550GWh of power annually, providing electricity for 100,000 homes.
It is developed in an area of 1,966 acres (795ha) and features SunPower Tracker technology, along with 88,000 crystalline photovoltaic (PV) panels.
NRG Energy owns the California Valley Solar Ranch project. Pacific Gas & Electric purchases the power generated by the plant under a 25-year PPA. SunPower was the engineering, procurement and construction (EPC) contractor and technology provider for the project.
---
Golmud Solar Park
The 200MW Golmud Solar Park is located in Qinghai Province of China. Construction of the project began in 2009 and commissioning took place in October 2011. The project won the 2012 China Quality Power Project Award.
The plant is developed in an area of 5.64km² and generates 317.2GWh of electricity a year. Huanghe Hydropower invested RMB 3.26bn on the Golmud project. Yingli was awarded the construction contract for the project.
The plant is installed with ground mounted solar photovoltaic modules supplied by Yingli Green Energy.
---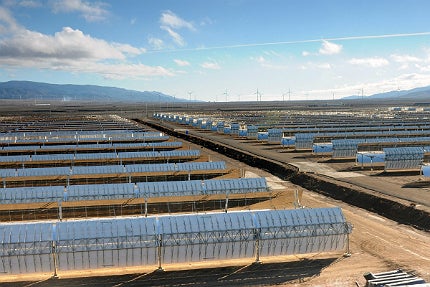 Andasol solar power plant was constructed at Guadix, in Andalusia, Spain. It is the first solar plant in Europe that uses a parabolic trough for commercial purposes. The plant includes three 50MW parabolic trough power plants, generating approximately 540GWh per year.
Each unit of the Andasol power station is made up of 312 collector rows consisting of 28 mirrors and three absorption pipes. It uses molten salt to store the solar thermal heat. The solar energy is stored in tanks to generate electricity even during night.
The Andasol 1 and Andasol 2 plants are owned by Solar Millennium and ACS Cobra. Andasol 3 is owned by Marquesado Solar.
---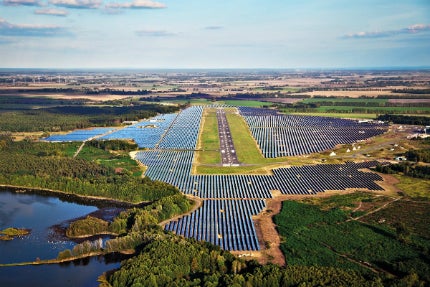 The 150MW Neuhardenberg solar park is located in Brandenburg, Germany. The solar park began commercial operations in 2012. It generates 19.63 million kWh of electricity per year, providing clean electricity for 48,000 homes.
Neuhardenberg has been constructed in an area of 35ha. The solar park comprises of 600,000 Talesun TP660P PV modules. The modules have a peak power rating of 220W to 250W.
The plant uses the Powador XP500-HV TL inverter system with an AC power of 500kVA. The frame technology used at Neuhardenberg is Sigma II von Mounting System.
BaySolar owns the Neuhardenberg solar park through its subsidiary Bay Energy Group. Gräss Solartechnik was the EPC contractor.
---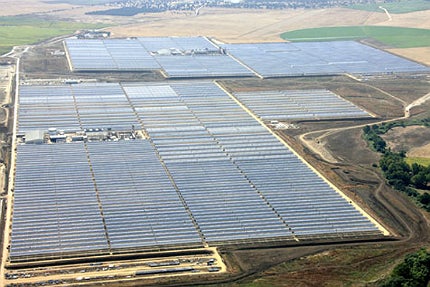 The 150MW Solnova solar power station is located at Sanlúcar la Mayor, Spain. It is part of the Solucar Complex and is made up of five separate units of 50MW each, out of which three units are operational.
The Solnova power station uses ASTRØ parabolic trough technology, which involves the use of curved heliostat mirrors to reflect the sunlight onto a pipe containing a fluid (synthetic oil).
The fluid is heated up to 400°C temperature by the solar radiation and is used to produce water vapour, which will drive a turbine-generator to produce electricity.
Abengoa Solar owns and operates the Solnova solar power station. The construction cost of the three installed units was €710m ($950m approximately).
---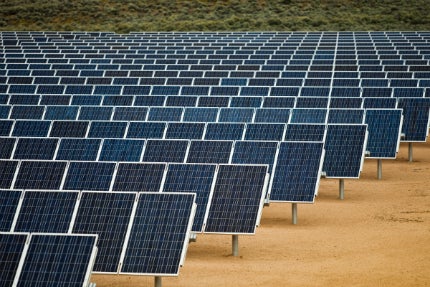 Mesquite Solar Project is located in Arlington, Maricopa County, Arizona. It generates 350GWh of electricity per year, providing clean electricity to 56,000 homes.
The current installed capacity of the plant is 150MW. The plant will have a capacity of 700MW when fully completed.
The project comprises of 800,000 solar panels developed by Suntech Power. It aims to tap the sunlight to generate up to 700MW of solar power without using any water supplies.
The power from Mesquite Solar is sold to Pacific Gas and Electric under a 20-year PPA.
Sempra US Gas & Power is the owner of the Mesquite project. Federal Financing Bank provided $337m loan facility for the project.
---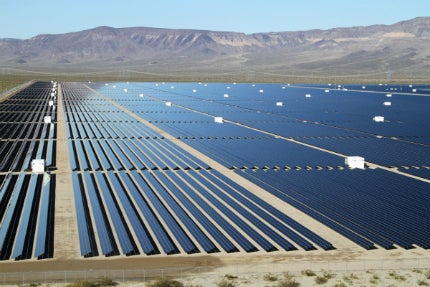 Copper Mountain Solar 1 is located in Boulder City, in Nevada, US. The power project is divided into three phases. The first phase includes 58MW and the second phase includes 150MW, of which 92MW was grid connected by January 2013.
Phase three is under construction and will add 250MW.
The project involved installation of approximately one million PV solar panels. It is extended in an area of 450 acres (182ha) and generates 316GWh of electricity annually, which is sufficient for meeting the electricity needs of 17,000 homes.
Sempra US Gas & Power is the developer of the project. Pacific Gas and Electric is purchasing the energy generated from the Copper Mountain Solar Project 1 and 2 units under a 20-year deal.
---
Extresol Solar Power Plant
Extresol solar power plant located at Badajoz, Spain, consists of three 50MW units built in three phases. The plant has a generating capacity of 175GWh per year.
The first unit commenced operations in 2010 and construction of the final unit was completed in August 2012.
The Extresol solar power facility uses parabolic trough technology. The plant is spread across an area of approximately 500,000m². It uses molten salts for storing solar heat. Each unit of Extresol stores heat for 7.5 hours.
The plant is owned by ACS/Cobra Group. Endesa is the off-taker. Siemens provided the turbine technology.

Related content
---
Google is investing an additional $600m in its data centre in Lenoir, North Carolina, and aims to expand clean energy options for companies in the US state through utility-offered 'renewable energy tariffs'.
Siemens have developed the world's longest wind turbine rotor blades, which are currently being tested at their R&D facility.
---