AMETEK Land is an international designer and manufacturer of flue gas combustion efficiency, environmental emissions monitoring and infrared process thermal imaging instrumentation.
Our broad product range includes portable and continuous analysers for CO, O2, NO, NO2, NOx, CO2, H2S, CxHy, H2O and acid dewpoint, as well as smoke and particulates, and process thermal imaging.
Founded in 1947, LAND is part of the AMETEK group and has offices worldwide, including in the UK, US, France, Spain, Italy, India, Germany, and China.
Boiler combustion efficiency monitoring
A range of combustion efficiency monitors include measurements of flue gas oxygen (O2) and carbon monoxide (CO). These provide primary information for controlling overall boiler efficiency.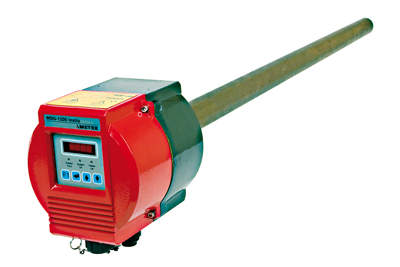 Genesis is the world's first stand-alone flue gas zirconia oxygen analyser.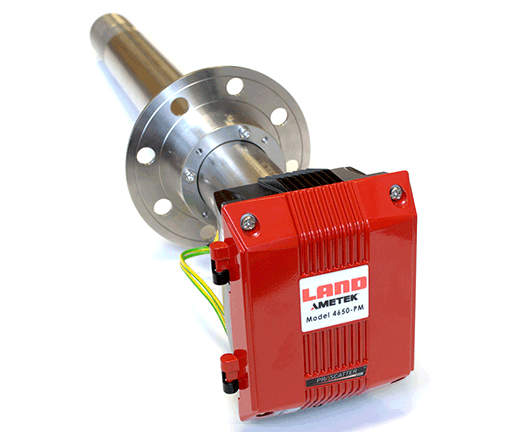 The Model 4650-PM particulate monitor is designed for very low dust concentrations below 0.1 mg/m3 and meets US-EPA PS-11.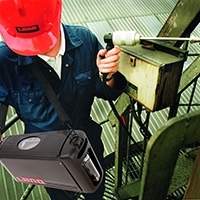 Lancom 4 is a lightweight and rugged portable flue gas analyser suitable for up to nine combustion and pollutant gas measurements.
In addition, acid dewpoint temperature monitors are a reliable, preventive method against plant erosion and damage as a result of burning sulphur-bearing fuels. These include:
Genesis WDG: zirconia sensor flue gas oxygen analysers
Series 9000: cross-stack, infrared carbon monoxide monitors
Lancom 200: portable sulphuric acid dewpoint temperature monitor
Opacity monitors and dust monitors
Flue gas dust monitors and opacity monitors give vital analysis of pollutant particulate emission levels.All the dust monitors use a patented measurement technique for high accuracy and reliability. These include:
The Model 4200, a low cost, non-compliance, cross-stack smoke and particulates monitor
The Model 4200+, a compact smoke, dust and particulate, non-compliance monitor
The Model 4500 MkIII, our compact, compliance opacity monitor
The Model 4650-PM, our latest compliance particulate monitor to meet US-EPA PS-11
Continuous emissions monitoring
The FGA range of continuous emissions monitors are ideal for the monitoring of process emissions. Complete flue gas analysis of CO, O2, CO2, NO, NO2 and Total NOx is essential for efficient and environmentally acceptable performance.
Specially designed, bespoke continuous emissions monitoring systems (CEMs) are routinely engineered to meet particular application requirements.The FGA 900 Series is a range of stack emissions monitors for CO, O2, NO, NO2 and NOx.
Portable flue gas analysers
The Lancom portable gas analysers offer instant analysis of up to nine flue gases, including CO, CO2, O2, NO, NO2, SO2, H2S and hydrocarbons.
A complete boiler analysis, including that of combustion efficiency, excess air, heat loss and environmental emissions, can be undertaken. A wide range of probe types, plus other user-selectable options, are available, including:
Lancom 4, a portable analyser, which is fully configurable to have the required gases and options fitted to meet exact user requirements
Insight data acquisition and analysis system for portable analysers
Coal fire detection solutions
For all coal handling, processing and storage applications, AMETEK Land offers a system capable of monitoring the entire coal handling process, including applications such as coal storage, transportation, grinding and storage of PF in silos.
The early detection of a coal fire is vital to the safe and efficient operation of any plant. The company's products include:
MillWatch: advance warning of the onset of coal mill and silo fires through the early detection of the build-up of carbon monoxide in a mill
Coal Pile Hotspot Detection: an early warning system to prevent the onset of fire in coal storage applications.
Critical vessel refractory monitoring
When processes take place inside refractory lined vessels, it is critical to have a safe plant operation to ensure the integrity of the refractory lining.
In the event of a refractory breakdown, hot gases come into contact with the vessel shell, potentially causing catastrophic failure and risking costly unplanned shutdowns.
The proven critical vessel monitoring system from AMETEK Land is able to provide a significantly improved measurement density with one measurement per 16cm² / 0.02ft², allowing earlier detection of refractory breakdown, often before the problem becomes dangerous.