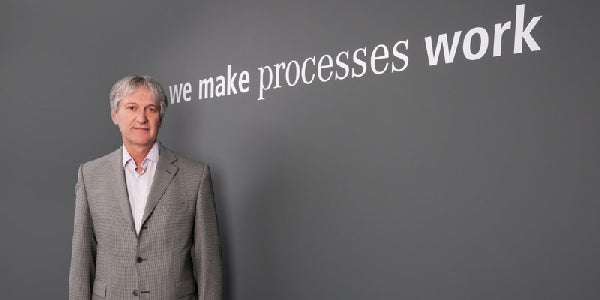 Nick Jones, managing director
---
Three of the leading companies in the bulk materials handling and processing business have joined together to provide a bigger and better service for both existing and new clients.
Doncaster based Clyde Process and Stroud-based Redler have both become part of the multinational Schenck Process group, whose UK base was previously located in Stockport. Now all three companies are under one roof at Doncaster's Lakeside.
The thinking behind the move is simple, according to managing director Nick Jones. "All three companies are specialists in their fields," said Nick. "By bringing them together we're now able to offer clients an unrivalled service, essentially creating a one-stop shop for process technologies to meet the needs of a wide range of industrial sectors.
"The merger means we can now supply products from nine different brands across the Schenck Process Group, allowing us to create bespoke packages which no other company can match. Put simply, we make processes work and can respond to the needs of all kinds of businesses, from light industries such as food processing and pharmaceuticals to heavy industries such as cement and steel. And we're increasingly working within the power industry as it shapes up to the challenge of the changing needs of the 21st century."
The new organisation was keen to establish its base in South Yorkshire because of the level of engineering expertise within the area. Doncaster also offers great transport links and real potential for expansion because of the availability of land and a supportive approach to development.
"Doncaster was the obvious choice of the three locations for our new base," said Nick, "as we have real aspirations to develop and expand in the future. Having brought the companies together, our next steps include building a new factory and test house next year, so that we can further enhance our ability to test new products and processes and consolidate our services through effective research and development.
"With an R and D budget of more than £1m each year in the UK alone, Schenck Process is firmly committed to the development of new products and services. Our customers' needs are central to everything we do and that includes constantly working to find solutions to their challenges."
An integral part of our policy of looking after projects from cradle to grave is our Aftersales operation which provides a comprehensive spare parts and maintenance contract service from a dedicated UK based team.
"We provide critical plant to critical industries," said Nick, "so an effective and responsive aftersales service is absolutely essential and that's an area we invest heavily in to ensure our customers have the confidence that we'll provide the back-up they need, when they need it."
The company is going from strength to strength and is certainly bucking the recession with its turnover increasing from £26m last year to a remarkable predicted turnover of over £45m this year.
"The industries we supply to need to know that they can rely on their suppliers for quality and service, but they also want to see innovation and ideas, and that's what we offer, especially now we have brought the three companies together in one location," said Nick. "And with access to markets all over the world, we can offer our customers the ideal combination – a UK-based company which understands their needs, combined with access to market leading services and products from across the world through our international base."