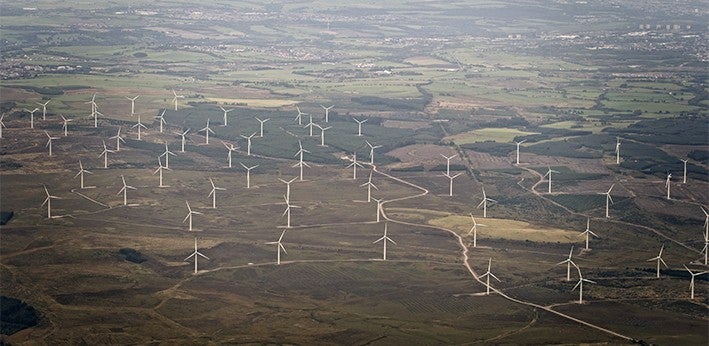 Encouraged by success in the sector in 2016 and with an enviable and expanding portfolio of renewable sector clients that continue to benefit from its specialist services, Quartzelec is participating at this years' All Energy show after a seven-year absence.
Celebrating its tenth year of OEM independence this year, Quartzelec's presence within the renewables sector is underpinned by decades of experience in the overhaul and rewind of large Hydro-Generators, for both the Scottish hydro-power installations, and large-scale stations overseas. Association through previous heritage companies including ALSTOM and Cegelec also ensures the necessary experience for the burgeoning Renewable Energy market. With developments in other forms of renewable energy, Quartzelec has also skilfully transferred its electrical engineering expertise and competencies to 'newer' types of generation within the sector. This includes solar field installation and maintenance, support to the wind industry for Electrical installation, maintenance and service, as well as onsite support and workshop overhaul of Generators, BioEnergy site maintenance, as well as development / prototype work within the fringes of tidal generation.
"Attending All-Energy 2017 affords us the means to meet many of our established clients in a professional yet relaxed environment plus gives us the opportunity to demonstrate the rapid response support services we can deliver at a 'local' level," explained Jamie Burns and Stephen Morrison, general managers of Quartzelec's Aberdeen and Hamilton business respectively.
"We're also well versed at supporting operations in allied sectors like oil & gas and power generation and are no strangers to working to the strict safety protocols demanded and tight deadlines imposed. Our experience and expertise here means we understand and can meet a diverse number of renewable sector requirements when it comes to providing both scheduled maintenance and critical support for electrical installations. We're anticipating great things from the All-Energy event and hopefully won't be disappointed."
With attendance at All-Energy 2017 forming a key part of its continued expansion programme, Quartzelec is looking to build on the last years' successes. This includes supporting contracts that cover the design and installation of equipment, including switchgear, cables and transformers; the testing and commissioning of HV apparatus; the maintenance and upgrading of systems; plus the implementation of protection studies to ensure safe and sustainable operation of protective devices and minimise impact in the event of a fault. Being NERs accredited also allows Quartzelec to support electrical grid connection works.
Within the hydro-electric sector, Quartzelec recently secured a pivotal role in the modernisation of a small power station in Scotland's picturesque West Highlands; a key element of which is the rewinding of a stator and rotor plus the supply of a new brushless exciter to ensure the aging Harland vertical hydro-generator continues to deliver faultless and efficient service. Other schemes have included the refurbishment of a 100MW generator at the Cruachan hydro power station along with supporting various technical studies for new installations.
Strategically involved in helping establish a number of solar projects and installations, Quartzelec typically integrates and then couples these to the grid, subsequently providing ongoing support to ensure they continue to achieve optimum performance.
Installing and maintaining generators at UK wind farms along with the required infrastructure has also featured heavily in its portfolio. Now under a long-term collaboration agreement, Quartzelec is supporting S&C Electric Company with particular focus on PureWave® DSTATCOM Distributed Static Compensator units which are increasingly being installed in wind farms across the UK and Ireland.
Quartzelec will have a team of experienced engineers on its stand J60 at All-Energy (10-11 May at SECC, Glasgow) to discuss the range of electrical engineering services it can deliver to the demanding and highly competitive renewable sector.
Quartzelec, a leading independent engineering service provider with an ever‑extending global reach, offers permanent online...