SOLAFT Filtration Solutions
Filtration Equipment for Coal-Fired Power Plants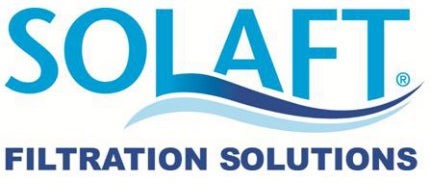 SOLAFT™ Filtration Solutions has been manufacturing high-performance, high-quality technical fabrics for power generation for 50 years. SOLAFT develops and manufactures filtration solutions to enable customers to reduce emissions and increase productivity.
Vertically integrated to solve generator specific problems
As one of the few vertically integrated manufacturers of fabrics in the world, SOLAFT can manufacture custom fabrics tailored specifically to suit individual utility and industrial boiler generators' own unique requirements since all operations are unique in some way.
SOLAFT can solve problems for clients by developing fabrics specifically designed for them to overcome the challenges that only they encounter. Coal-fired generators do not need to accept a one-size fits all solution.
With no middle-men needing to make a margin, vertical integration means our customers benefit from SOLAFT's highly competitive prices and a single point of accountability for lead times, fabric quality, bag fabrication and product warranties.
Products for all power generation bag houses
SOLAFT Filtration Solutions makes fabric filters for all types and makes of baghouses including pulse jet, reverse air and mechanical shaker units. The company makes woven and non-woven bags from a wide range of fibres including polyphenylene sulphide (PPS), homo-polymer acrylic, P84 and expanded polytetrafluoroethylene (ePTFE).
SOLAFT also support a range of specialist finishing treatments including PrimaCell® for fine particle capture at lower temperatures, Primashield® for acid and moisture resistance and ePTFE membrane.
Working with customers to solve problems and optimise performance
More than just a bag maker, SOLAFT Filtration Solutions provides the system perspective to look both upstream and downstream of the bag house to determine how different components of the system impact overall performance.
As part of the SOLAFT performance check, we work with our customers to understand their goals, diagnose the issues and determine the best solution to optimise the fabric filter unit.
Solutions might involve the development of innovative new filtration fabrics or bag design changes or enhancement but might also involve recommendations for operations, intelligent controls, bag cleaning regimes, or flow modelling and management.
SOLAFT works closely with partners and an alliance of experts to give customers the support they need to be successful.
A commitment to innovative filter solutions
SOLAFT Filtration Solutions has a strong legacy of innovation which continues today with an ongoing commitment to developing products that help customers achieve their goals.
The company has invented the patented StarBag®, an extended surface area filter bag which has become the default solution for dry scrubbing in gas treatment systems and in aluminium smelting applications.
Due to the StarBag innovative pleated design it can provide more than 50% of the available fabric than traditional filter bags, allowing for an increase in baghouse capacity. It is also designed to easily replace traditional filter bags without making major changes to the existing cleaning system.
Increasingly, coal-fired generators are looking to StarBags where bag houses are undersized, experience higher particulate emissions or are restricted by flow and load due to higher than desired pressure drops. StarBags deliver lower air to cloth ratios, reduced pulse frequency, lower emissions, improved flows / pressure drops, improved scrubbing efficiency and longer bag life.
Innovation is a major driver of SOLAFT's business and key to success. As a vertically integrated filter manufacturer we have full control of all stages of the process allowing for the development of new innovative filtration products to meet customer needs.
Our product development and technical teams are continuously designing different fabric and fibre constructions, different weave patterns, finishing and chemical treatments to provide innovative industrial filtration solutions that will perform at optimum levels at your facility.
Global experience and local knowledge of power stations
SOLAFT Filtration Solutions' products are currently installed in over 120 coal-fired power stations around the world supporting over 40,000MW of power generation. Our track record rests on our history as a pioneer and innovator in fabric filtration.
In fact, SOLAFT supplied some of the first COHPAC pulse jet fabric filter units built in the United States. SOLAFT also supplied the first pulse jet filter units in power generation in China and currently serve the vast majority of coal-fired boilers in China. SOLAFT Filtration Solutions has been a major supplier of coal-fired power station solutions in Australia since 1980.
Customers can benefit directly from our experience having developed technical innovative fabrics for a host of operating conditions and fuel sources.
SOLAFT Filtration Solutions Images
Press Release
It's not just our experience that sets us apart, there are many reasons why partnering with SOLAFT will benefit your business. 
Read more
SOLAFT Filtration Solutions - Global Head Office
Street Address: 6 Chivers Road, Somersby, 2250
Postal address: Locked Bag 49, Gosford, NSW 2250
Australia
+61 1300 058 194 (within Australia)
+61 2 8006 6200 (outside Australia)
+61 2 432 911 45
sales@solaft.com
www.solaft.com
Technical Services Office
Street Address: Unit 4, 7-9 Industry Dr, Caboolture 4510
Australia
+61 1300 058 194 (within Australia)
+61 2 8006 6200 (outside Australia)
: +61 2 4329 1145
sales@solaft.com