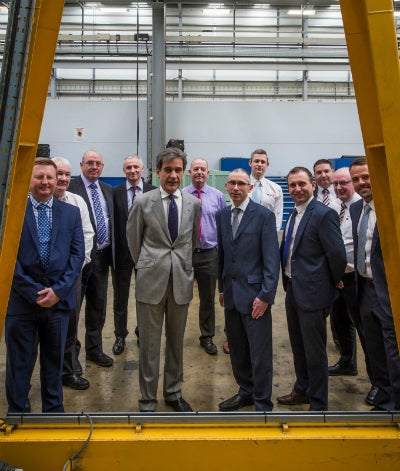 The past decade has been an economic rollercoaster for many UK and international organisations. During 2007 the Quartzelec business finalised complete commercial independence via a Management Buy-Out, adopting the new Quartzelec branding – then just months later the phrase 'sub-prime' and the collapse of Northern Rock bank first hit the news, heralding the financial meltdown that has resulted in almost a decade of austerity.
Despite starting out in this cauldron of change, strong leadership, a dedicated and knowledgeable 500 plus workforce and a positive 'can do' approach has enabled Quartzelec to achieve a £68m turnover and continually grow internationally; building its reputation as a cost effective, independent provider of electrical engineering services.
Its long and celebrated heritage spans 100 years, embracing companies that include; BTH, AEI, GEC Machines, GEC Alsthom Large Machines, ALSTOM and Cegelec, as well as elements of the previous regional electricity companies; ScottishPower, Manweb and Norweb. A complicated history but one which has nurtured a unique expertise and today Quartzelec's unparalleled service levels and use of innovation makes it one of the leading solutions providers in its sector.
"An ever present factor in our long term strategy has been to empower our people to operate independently, enabling them to always consider, prioritise and thereby meet the regional needs of our customers," explained Daniel Laval, the company's Managing Director and the man responsible for the MBO from the previous French owner, Cegelec. "Our people are our greatest asset, and training and their welfare remain high on our agenda as this positive focus impacts everything we do. We continue to extend our enviable reputation as a competent and dependable provider of independent electrical engineering solutions, that's responsive to customer needs and delivers real value to our global customer base."
"2017 marks our tenth year of independence and this year is already looking really positive for Quartzelec internationally and our innovative approach and reliability makes us an attractive and cost effective supplier within our domestic market. BREXIT is still an unknown quantity for the majority of UK businesses, although in the short to mid-term the exchange rate movement means we're more competitive overseas and this will only be to our advantage."
Over the coming months Daniel Laval and his board of directors will be visiting each of the UK operations to celebrate the first 10 years of Quartzelec, to reiterate corporate values, help strengthen current service delivery plus promote further client growth.
The business continues to focus on Electrical Contracting services with recent project wins including; the £1m+ redevelopment work at Aberdeen International Airport; the M&E elements for the new landmark Wirrall Met College Campus; as well as helping to rejuvenate London's historic and quirky Wilton's Music Hall by delivering complete M&E services on this listed project.
In support of the UK's Rotating Machines installed plant successes have been seen with; multiple contracts within the renewable energy and the hydro sector; delivering ongoing support for the upkeep, upgrade and repair for various on-board propulsion motors for the Royal Navy; plus meeting the critical requirements of customers in the main markets of power generation, metals and mining, offshore oil and gas as well as the marine sector.
Quartzelec has continued to make significant investments throughout these 10 years of independence; a purpose built workshop facility in Rugby saw a £9m investment also housing the company's head-quarters as well as multi-million pound investments in production tools for its Rugby based Quartzcoil business – focused on coils and bars manufacturing.
Internationally, Quartzelec has established commercial operations in the Philippines, Malaysia and in Abu Dhabi, further extending rotating machines services with a more local approach. In recent months international projects have included providing critical maintenance and refurbishment services to goldmines in South Africa; extending the longevity of a generator at an Ivory Coast power station; supporting oil and gas operations in Asia; plus implementing rotor rewinds and overhauls for customers' machines in Saudi Arabia and Oman.
One additional area that has seen significant growth has been the development of condition monitoring solutions. Through the Quartzteq business, based in Switzerland, the Lifeview® range of products allows clients to better evaluate the health of their rotating HV electric motor and generator assets and thereby improve efficiency, safety and operational capability.
Daniel Laval concludes: "These 10 years of independence from an OEM have allowed Quartzelec the opportunity to flourish, truly establishing itself as the competent partner of choice for reliable, responsive and cost effective independent support solutions – and we're now consolidating plans to grow the business further over the coming decade and beyond."
When a US-based engineering solutions provider needed urgent support to help in the rotor refurbishment...