TIO BV
Industrial Silencers and Noise Control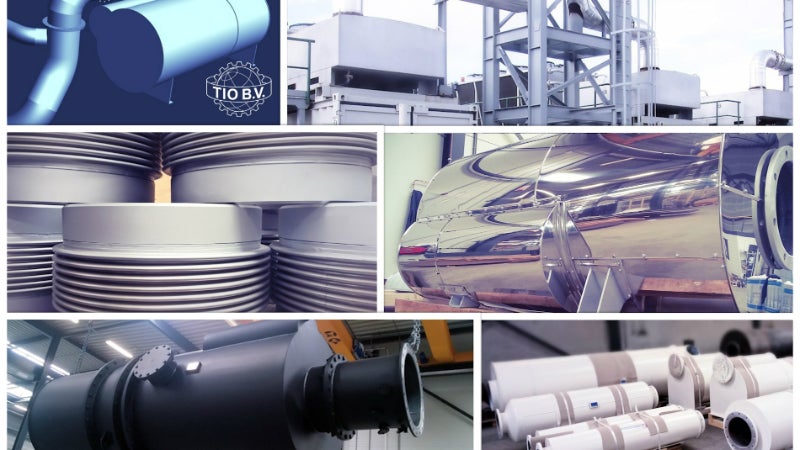 TIO BV (Technische Industriële Onderneming), established in 1934, is a wordwide leading manufacturer of industrial silencers and exhaust accessories for small, medium and large diesel and natural gas engines as well as inlet and outlet silencers for any situation where gasses are flowing.
Our comprehensive and versatile range of products are supplied to customers active in numerous fields including, marine, offshore, power generation, gensets and total-energy, process industry, petrochemical industry, railroad, machines and vehicles. About half of all sales are to customers outside the Netherlands, placing the company as a worldwide supplier.
Customised silencers
Customized silencers are our specialty. We can produce a virtually infinite range of custom-built silencers in a wide variety of materials, sizes and shapes, including round, oval and rectangular cross-sections. If preferred, we can design your own range of silencers, as we did for some of the leading equipment and engine manufacturers.
Our modern 65,000ft² facility in Krimpen aan den IJssel, the Netherlands, is well-equipped for the production of silencers. All components are in-house engineered and manufactured. One of our main strengths is therefore a very short delivery time. Our logistics and expediting departments manage all of your shipping requirements, whether it is a simple accessory or a silencer.
More than 65 people are fully dedicated to the design, engineering and production of our products. These people, together with our well-equipped facility gives us the capability to handle orders of any size, any shape or complexity. Combining these product options with superior quality, innovation, competitive prices, great service and short delivery times makes TIO your perfect partner for your project.
Acoustic engineering
We are committed to engineering excellence and to design the right silencer to meet your specific noise requirements, regardless of shape, size or complexity, from a cylindrical to a box-type silencer, from a single component to a turn-key application. Our engineers are ready for you – we carry out noise measurements, noise reports and acoustic calculations, as well as velocity and back-pressure calculations of your complete installation. In addition to this, we can also advise in vibration control, mounting, material selections and strength calculations.
Industrial silencers and spark arresters
TIO BV has developed the broadest range of inlet and exhaust silencers designed to meet the requirements for any application. We provide absorption, reflection and reactive silencers, spark arresters (in any shape and if required) and combinations of these in one silencer housing.
In summary, the TIO BV inlet and exhaust silencer types and applications and our other exhaust related products are:
Inlet and exhaust silencers for all types of engines
Blow-off silencers, vent silencers or pulsation silencers
Silencers for gas turbine applications
Silencers for blowers and compressors
Silencers for boilers
Silencers for fans
Pressure silencers, with F.E. PED, ASME or TUV qualification
Ducting with built-in silencers
Chimneys with built-in silencers
Spark arresters
Expansion bellows
Mountings
Industrial silencers field of applications
Our silencers are used worldwide in the following fields:
Marine
Offshore
Power generation, gensets and total-energy power plants
Process industry
Petrochemical industry
Railroad
Machines and vehicles
Dry and wet bulk-handling installations
TIO BV
Parallelweg 9
2921 LE Krimpen a/d Ijssel
Netherlands
Patrick Lecarpentier - Sales Director Contact: Paul Strijker - Senior Quality & Engineering Manager
Eric Hoefsloot - Sales and Expediting Manager
Suzanne Bourguignon - Sales and Expediting Manager
Jeanne Overbeek - Engineer
info@tiobv.nl
www.tiobv.nl
TIO company movie